Couple decorates home with King George III in mind
Not long after the gifts had been distributed last Christmas, Elizabeth Losh and her husband Mel Horan began pondering how to decorate the outside of their home on Duke of Gloucester Street in the Historic Area of Colonial Williamsburg.
What they decided enabled Losh, associate professor of English and American studies at William & Mary, to combine traditional wreaths that celebrate the season with a mammoth digital humanities campaign in which the university has a key role. Digital humanities is among her areas of expertise.
The Georgian Papers Programme is a project to digitize, disseminate and interpret 350,000 documents, including many penned by King George III during the period that Colonial Williamsburg interprets. The GPP represents a partnership between, on the American side, the Omohundro Institute of Early American History & Culture and William & Mary, with leading British partners the Royal Collection Trust and King's College London. The first phase, roughly 33,000 digitized documents, was publically released on Jan. 28.
"We were inspired by the Georgian Papers, since I'm involved in digital humanities initiatives on campus," Losh said. "Even though my period of expertise is not the 18th century, I've certainly been following with interest our collaboration on this project."
The papers reveal a king with varied interests: science, music, mathematics, exploration, culinary arts and, unlike his philandering grandfather and sons, devotion to his family.
Horan, a former art director, created wreaths that played off of those passions.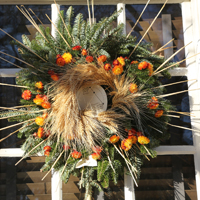 For example, one wreath exhibits paper dolls of some of George's 15 children, arranged by height, something the king himself tracked.
Another displays the king's recipe for ginger nuts. Losh and Horan actually cooked the nuts, attached them to the wreath and garnished them with cinnamon sticks.
Yet another contains the king's post-war essay that began "America is lost!" and reviewed the causes and effects of the American Revolution. It is set within the outline of a Colonial-era cannon.
"I asked Karin Wulf what her favorite Georgian Papers artifact was," Losh said, referring to the William & Mary professor of history and director of the Omohundro Institute. "She told me it was the 'America is Lost!' document, so that's why we adapted that."
There's an example of a New Year's message from Queen Charlotte featuring a punch bowl and dried oranges.
The king's interest in science is represented by a solar-themed display involving astronomical observations regarding the transit of Venus in the king's own hand, the research that in the 1700s helped determine the Earth's distance from the sun.
There are a great many rules attached to wreath making if you live in the Historic Area. First and foremost, they must be made of natural materials such as lady apples, seedpods, pine cones, magnolia leaves and oyster shells. Using any material not available to 18th century Williamsburg residents is forbidden.
"I specialize in 21st century digital media, but I live in the 18th century much of the time," said Losh, who has lived on Duke of Gloucester Street since coming to W&M from California in 2015. "They make strong suggestions as to what you should do. For example, on our side of the street they would like you to use dried fruit, not fresh fruit, because of the sun. If you live in the Historic Area, you accept certain limitations on your freedom to decorate."
"One thing that's funny to us is that we actually see families taking their Christmas-card photos in front of our house. So even though it involves a certain amount of labor and investment, it's nice to see people appreciating it."
Losh said that she's incorporated trips to her surrounding area and conversations with the staff at Colonial Williamsburg trade shops to show students that although separated by three centuries, there are certain similarities in media consumption between then and now.
"Often people in the 21st century feel that we're historically special, that we must be the first people in history to have the sense of rapid change taking place," she said. "In the late 18th century, there was a panic about novels and the possibility that being exposed to novels might lead to adultery, prostitution, crime and all sorts of terrible things. So the novel was kind of a virtual reality technology of that period that created anxieties similar to those that we have today about social networks, videogames and other digital media."