Hixon family gives $1.8M to fund international scholarships
Jim Hixon J.D. '79, M.L.T. '80 and daughter, Kate Hixon '08, have given $1.8 million to support international scholarships at William & Mary — the first gift to fully fund the education of international students at the university.
The Hixon Family Scholarship Endowment will provide undergraduate scholarships for students who are residents of African countries. The scholarship covers tuition, board, room, fees and travel. The gift also includes an enrichment endowment for internships, study abroad, honors research and summer courses for international students.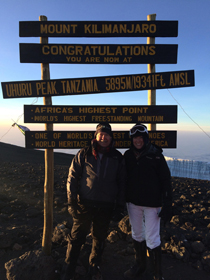 Kate Hixon has traveled extensively throughout sub-Saharan Africa throughout the course of her professional career working on human rights issues. During her trips, she met countless bright students who wanted a quality education, but lacked the means to fund their academic aspirations.  
"Obviously there are students in financial need everywhere, but there are more existing options for students domestically than internationally…," Kate Hixon said. "When you see kids who definitely want to learn, but don't have the finances, that is just very moving to me. I want to make sure that people are given an opportunity to learn."
The first scholarship recipient will begin studying at William & Mary next fall. The Hixon's gift supports the university's Affording Opportunity scholarships effort and its goal to build a vibrant community of diverse perspectives.
"Scholarships are one of the biggest needs William & Mary has — especially out-of-state scholarships — so this gift made a lot of sense," said Jim Hixon, who emphasized that scholarships are also the top priority of the For the Bold campaign. "The students will be receiving a first-class education that they can use to make a real difference in their respective countries."
Stephen Sechrist, director of international students, scholars and programs at the Reves Center for International Studies, said the Hixons' historic gift has broken a longstanding barrier at William & Mary.
"Our outstanding undergraduate education has long been inaccessible to students from abroad who did not come from families with the means to afford a U.S. education," Sechrist said. "Now because of this gift, W&M becomes a possibility for a student of limited means, from a critical region of the world that is vastly underrepresented at the university. This is a powerful step forward in our international and diversity efforts and words cannot express how grateful we are to the Hixon family." 
The Hixons have been generous supporters of the university. A recent gift to the William & Mary Law School funded the Hixon Center for Experiential Learning and Leadership, which opened earlier this year.
Jim Hixon retired from Norfolk Southern last year as an executive vice president of law and corporate relations and chief legal officer. He serves on several boards at William & Mary including the Board of Visitors, the Campaign Steering Committee and is a past member of the Virginia Institute of Marine Science (VIMS) Council. Kate Hixon currently works in Washington, D.C., in grant management, focusing on democracy building programs in Southern and Eastern Africa. She previously served on the Class of 2008's fifth Reunion Gift Committee.
"The Hixon family has long helped us imagine new boundaries for what is possible for our university, and with this gift they continue that remarkable vision," said Matthew T. Lambert '99, vice president for university advancement. "This scholarship will have a transformational impact in making a William & Mary education possible for international students, and represents a new era for William & Mary in the world as we seek to bring to our campus the best and brightest students from all corners of the globe."