Graduate students present research at symposium March 24-25
William & Mary's 16th Annual Graduate Research Symposium will be held at the Sadler Center on the William & Mary campus March 24-25.
A Three Minute Thesis competition in Commonwealth Auditorium will kick off the symposium on March 23 from 6 to 8 p.m. The 3MT event is new to the symposium this year. The competition will give a baker's dozen of researchers the opportunity to present their work in a format that's like a mini TED Talk. The 3MT rules call for one slide, no props and three minutes to explain years of work to an audience, with $500 in prizes at stake.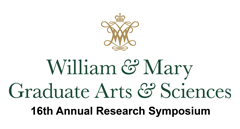 The symposium is a two-day, broadly themed academic conference designed to bring together graduate students in differing areas of study. Graduate students from William & Mary and visiting institutions, including as Clemson University, College of Charleston, George Mason University, Harvard, James Madison University, Stanford, University of Connecticut, University of Miami, University of North Carolina, University of Pennsylvania and Virginia Commonwealth University will give presentations on their current research in fields ranging from American studies to physics.
Symposium highlights: 
150 total graduate student lectures and poster presentations during the two days
34 presenters from 11 visiting institutions
$9,000 given in Awards for Excellence in Scholarship in the Humanities and Social Sciences and in the Natural and Computational Sciences plus $1,000 given in Awards for Excellence in Undergraduate Mentoring in the Humanities and Social Sciences and in the Natural and Computational Sciences
W&M graduate student presentations from each of the 11 Arts & Sciences graduate departments/programs
The symposium is hosted by William & Mary's Graduate Student Association of Arts & Sciences and the Arts & Sciences Office of Graduate Studies and Research. It is free and open to undergraduate and graduate students, faculty, staff, alumni and the general public. For more information, visit the symposium
website
.