Exterior designs approved for W&M arts buildings
William & Mary's Design Review Board approved initial exterior design concepts for the renovation of Phi Beta Kappa Memorial Hall and the new music building planned to be built next to it.
Moseley Architects of Norfolk is the local architect with music and performing arts specialist HGA Architects out of Minneapolis serving as primary designer and programmer for both projects.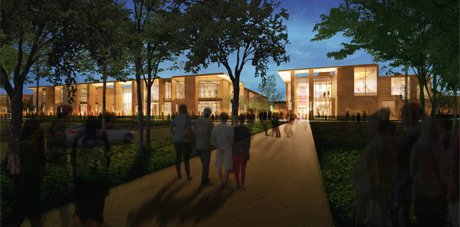 The footprint for the buildings was already known, but the latest step included schematic designs, according to Martha Terrell, senior planner and assistant to the senior vice president for finance and administration. The renderings of the proposed architecture show modern style buildings featuring open-air designs with lots of glass.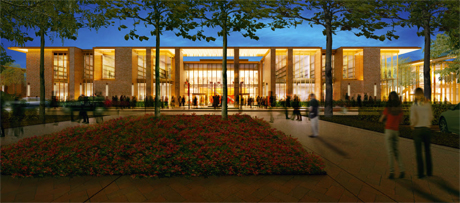 The project, which is formally known as Fine and Performing Arts Complex phase one and two, is projected to be completed in December of 2020 and to cost $118.5 million. Ground is expected to be broken in the summer of 2018 with both projects going on simultaneously.
The new buildings are part of a planned Arts Quarter along Jamestown Road that includes The Martha Wren Briggs Center for the Visual Arts, which will include a renovated and expanded Muscarelle Museum of Art, and renovated and expanded Andrews Hall for art and art history.