Cycling community riding tall and proud at W&M
Four years ago, bicycling opportunities at William & Mary were going nowhere fast, stuck at the end of a dead-end street.
Sixty percent of the students on campus in 2013 had bicycles with them. Yet there was but one fix-it station, tucked away at the Ludwell complex. There was an underwhelming number of bike racks available, no funding to improve the situation and no department responsible to maintain what little was there. In addition, there was nothing in the way of education that would keep cyclists and motorists safely out of each other's way.
Something had to be done, Bill Horacio, director of parking and transportation services, and Rich Thompson, associate director for Sadler Center and campus center operations, decided. Recently, the League of American Bicyclists let the university know that the progress made in the last four years was worthy of major recognition.
The league has now designated William & Mary a Silver Level Bicycle Friendly University, one of only two in the state and 54 nationally.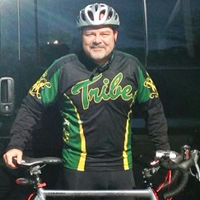 "To garner that award after four years is really rewarding in that it makes us view and look at all of the accomplishments the William & Mary Bike Alliance has made in a relatively short time to take a basically non-existent program and turn it into a Silver Level Award program for the university," Horacio said.
In on the ground floor of the project were two students, Brianna Buch '15 and Gabriel Morey '16.
"They were instrumental to move this to the student side," Horacio said. "They came to us with a lot of great ideas as to what was needed from student perspective. We hit the ground running and took on the lowest-hanging fruit."
That meant beginning by adding fix-it stations and removing broken bike racks and replacing them with newer and better ones. It's ongoing, but the university is transitioning to a serpentine-style rack, which allows locking without bikes being on top of bikes.
The number of fix-it stations now numbers eight, including one at W&M's Virginia Institute of Marine Science that was installed once the committee discovered that there were grad students living in Gloucester who biked to campus. William & Mary now has 235 racks, with the capacity to hold 4,000 bikes.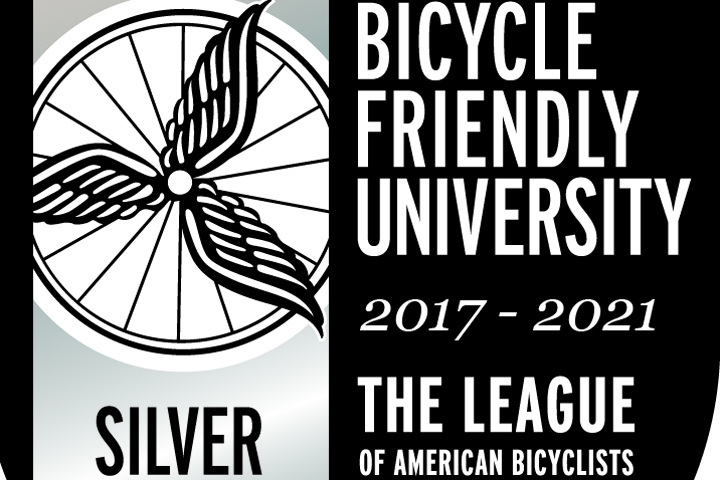 Using the League of American Bicyclists' 46-page application as a guide, the education of bicyclists became perhaps the largest component in the university's quest for award status.
"My biggest contributions in supporting William & Mary being recognized have rested in my ability to demonstrate that the W&M Bike Alliance Program supports many of the values and vision of the College," Thompson said.
Thompson ticked off many initiatives, including the institution of a bicycle basics class in conjunction with kinesiology and health sciences.
"We're actually one of the few schools in the country that has developed a cycling class for credit," Horacio added. "We wanted to make sure we just weren't enabling cyclists to take to the roads; we wanted them to do it the right way. We wanted them to make sure that they were following the rules, being safe and that we were creating an environment that was conducive to cycling, rather than cyclists just moving in with campus traffic and setting the stage for a dangerous situation."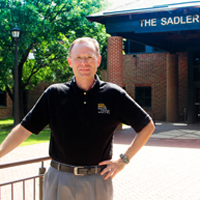 Thompson's work has included cultivating collaboration among faculty, government officials and members of the community for bicycle enhancements on and off campus. He's also guided and connected students to professionals in the field that want to pursue careers in city planning, transportation and bicycle advocacy. Three students have already been inspired to pursue careers either in city planning, transportation or bicycle advocacy. Thompson has brought in guest speakers to support wellness and sustainability, promoting bicycle advocacy and programming efforts with students.
That's how Sophia Palia '18, W&M Bike Alliance president, became involved.
"I remember seeing an advertisement for a bike alliance group ride [four years ago] and decided to go," she said. "I was the only participant who showed up. It was supposed to be a short four-mile ride ... but Gabriel Morey and Rich Thompson showed me around Williamsburg by bike, and we rode almost 25 miles. It was a beautiful ride, and I was hooked.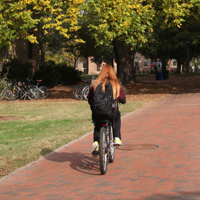 "It has been such a rewarding experience to see such a visible shift in bike culture in the three years I've been involved with the bike alliance, and I look forward to all the accomplishments of the future."
The most tangible evidence of the bike alliance's success is the fact that 75 percent of students now bring their bikes to campus.
"A lot of that I attribute to what we've enabled students to do on campus," Horacio said.