Alumnus remembers Kyle Milliken as a 'great man, great American'
Update: In June, the Pat Tillman Foundation announced that Kyle Milliken had been posthumously selected as a 2017 Tillman Scholar. - Ed.
When Thomas C. Dexter Jr. '91 met Kyle Milliken, he knew he was in the presence of someone special.
"He was passionate. He had a tremendous amount of energy. He was somebody who was a terrific, active listener," said Dexter. "He'd look you straight in the eye when you spoke, and he made you feel like what you said was important, and that was coming from somebody himself who was very accomplished but understated."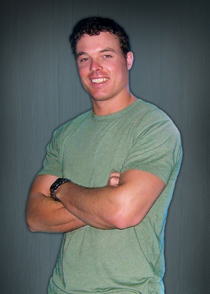 When Milliken, a Navy SEAL, began looking to further his education, it was Dexter who suggested William & Mary's Raymond A. Mason School of Business. Milliken was in the second semester of its online M.B.A. program when he was killed in action May 5 in Somalia while supporting an operation with U.S. Africa Command.
"The world was definitely a better and safer place with Millie here … however, his spirit will carry on and lead those whom he touched and influenced to be better themselves – that's the kind of guy he was. That's the way I feel," said Dexter.
According to the Department of Defense, Milliken died during an operation against al-Shabaab in a remote area approximately 40 miles west of Mogadishu. Milliken, a native of Falmouth, Maine, was assigned to an East Coast-based special warfare unit, according to the Department of Defense.
"He served his country with great distinction," said President Taylor Reveley. "We extend our deep sympathies to Kyle's family and all those who had the pleasure of knowing him."
In a statement issued through Naval Special Warfare Command, Milliken's family extended its gratitude for the community's interest in him.
"He was a devoted father and son, a true professional and a wonderful husband," the statement said.
Dexter, Managing Partner and CEO of Commonwealth Strategic Advisory LLC, met Milliken through a mutual friend a few years ago and was immediately impressed by the passion, energy and humility of the man he called "Millie."
"Kyle was the type of person who was all about making today count. He was all in, all the time on what he was focused on. I think that happens to be a common trait of those special people, the Navy SEALs, and I think Kyle, being one of the most impressive people I've ever met, I was humbled by his presence," said Dexter. "When I did meet him or speak to him, because of his humility and because of his respect and because of his deference, I thought, man, this is a special dude, a special person."
In a world where many seem more interested in "getting" than "giving," Milliken stood out, Dexter added.
"My experience with Kyle was that he was the ultimate giver, not taker. What he did was look at every opportunity to better the people around him, the situation around him," Dexter said. "Advancing his education was an example of that.
"This wasn't just somebody who was looking to get an M.B.A. to say he got an M.B.A. He was looking to study to improve himself, learn from others who had been out in the workforce and hopefully be able to share some of his experiences with those who may not have gone through what he had to make that join environment better."
Dexter, a former trustee of the College of William & Mary Foundation, is working with others to create something in Milliken's name to encourage other naval officers to continue their education at William & Mary.
"I'm extremely proud and I feel blessed to have met and been associated with Kyle Milliken," said Dexter. "He was a great man, a great American."