Adopt-a-student programs bridge generation gap
When Tyler Montgomery arrived at Bruton Parish Episcopal Church in 2015 as associate rector and chaplain to William & Mary, several people requested that he resurrect the Adopt-a-Canterburian program in conjunction with the university.
The son of a private school educator and a former high school teacher himself, Montgomery immediately endorsed the idea, a decision with which he is thrilled, given the results.
"Our first year, we had 25 sign-ups," he said. "Now we're up to 55. In three years, we've doubled the number of students adopted. The feedback has been really positive. With few exceptions, it's worked out really well."
Bruton is one of several local churches with adopt-a-student programs, which pair church members with W&M students to lend them support and friendship during their time at the university. Others include St. Stephen Lutheran, Walnut Hills Baptist, Williamsburg Community Chapel, Grace Covenant Church, St. Bede Catholic Church and Williamsburg Presbyterian Church.
Susie Morrison, who assists with the Bruton program, said that a few months after Montgomery revived the program she and fellow sponsors commented how much it meant to them to get to know students on a much deeper level.
"So often we drove down Jamestown Road and caught a glimpse of generic students," she said. "Now we knew them personally as bright, caring, kind and helpful."
Morrison added "our role is to be cheerleaders for our students, to be the family friends and church congregations our students left behind when they came to William & Mary. College can be a lonely experience; trying to find a place to fit in can be daunting."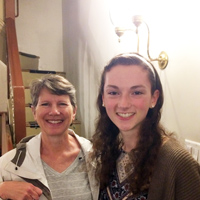 Emily Steele '19 said that the Morrisons once not only invited her to their home for dinner, they told her to bring some of her friends who were't Canterburians "just because they wanted to get to know me and my friends better." They've also offered to let her store her belongings in their home over the summer, help her on move-in day and to use their home as a one-day getaway, a gesture she calls "incredible."
At St. Stephen Lutheran Church across Jamestown Road from campus, a dozen students have been adopted this year, said Soni York, who has managed the program since 2010.
"This is the first time I've been in a church that was that closely associated with a university, and it was one of the things that drew me to the area and the church," said York. She and her husband are currently connected to their eighth student, sophomore Leslie Weber.
Weber calls her interaction with the Yorks "a nice way to bridge the generation gap."
"I love going to their house, talking to them, hearing stories about their children and their college experiences," she said. "I would say that it's a growing-type experience. It is kind of nice to know that if I needed to be mentored they could provide it for me, and to build a better relationship with them through the church."
On average, Weber and the Yorks see each other at least once a week, usually Sundays and maybe for dinner on a weeknight. The Yorks have told her that if she ever has a medical issue, they will take her to the hospital and serve a parental-type role until her parents can get to Williamsburg from Northern Virginia.
In many instances, the interaction between student and sponsor is social. But there are occasions where something more significant happens. York remembered an adoptee who visited her and her husband after he had graduated and had moved to New York.
"He started telling us how he had joined the church up there and gotten himself on the board," she said. "He was like, 'Thank you so much for being there for me. Because of you I'm now so involved with my new church.'
"I was really surprised. I didn't think I had done that much. Why was he thanking me? He went to church. Apparently for him there was something more, being able to have that relationship. It kept him going to church. Maybe we just made him feel that much more welcome in there."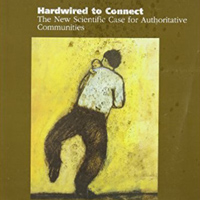 Bruton's Montgomery said the motivating force for him was a study published in 2004 called "Hardwired to Connect," written by the Commission on Children at Risk, a panel of leading children's doctors, research scientists and youth service professionals. It focused on young adults 15-25. From the 1960s to 2004, young adult suicide rose 300 percent, the report said. Depression and anxiety rose 400 percent. Since 2004, Montgomery added, the numbers have gotten even worse.
"Since we've been keeping statistics, young adults have more mental health and spiritual health issues than ever in recorded history," he said. "Part of that might be we're paying more attention to mental and spiritual health issues so we're diagnosing more. But I don't think that's a comprehensive explanation of it all."
Montgomery said that the report found a correlation between the decline in authoritative communities — Boy Scouts, Girl Scouts, rotary clubs, youth groups, church and community organizations — and the rise in young adult anxiety, depression and suicide. Those places, he said, gave young people a framework from which they could understand the world, help process the fact that anxiety and depression are often normal at that age and consider the big questions in life: Why am I here? What's the meaning of life? How do I live a good life?
According to Montgomery, sponsors can often help fill roles held by grandparents, high school teachers, older siblings and other family members once a student leaves home and is immersed in a new environment.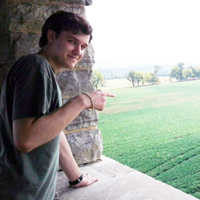 "The few times we have the opportunity to interact with older people it's generally professors, and it's a valuable relationship," said Ben Wade '18, who has been connected with a couple from Walnut Hills Baptist Church for four years. "But it's different from something you can get from a church or from people in the community. I'd definitely recommend it if it's available to somebody."