W&M dining program recognized as one of best in nation
William & Mary was recently recognized by BestColleges.com for having one of the top dining halls in the country.
The website, which works to help students make informed decisions regarding higher education by creating research-based guides and rankings, placed William & Mary's dining hall at number 17 on its list.
In compiling the list, researchers reviewed information from the College Navigator database and the Integrated Postsecondary Education Data System (IPEDS), a service maintained by the National Center for Education Statistics (NCES). Dining halls were selected for features such as freshness, quality, variety, availability of healthy options and ability to meet special dietary needs.
At William & Mary, students find a wide variety of both local and international dishes prepared in full view of guests. Some items are made on-site at W&M's in-house bakery and served fresh from the oven. W&M is also sensitive to special dietary needs, offering a dedicated station in both dining halls for those seeking foods free of the most common allergens.
William & Mary's dining program has been managed by Sodexo since 2014. In the past two years, the program has undergone number of changes and improvements, including the addition of unique new dining concepts on campus.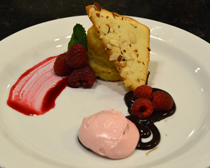 One of those concepts is Chancellor's Bistro, a residential dining option. At Chancellor's Bistro, students can enjoy a full-service restaurant dining experience. Located inside one of the resident dining halls, Chancellor's Bistro is separated from the main dining area by dividers and offers booth seating and a level of privacy not typically found in college dining venues. It also features local, fresh, sustainable, à la carte items prepared to order. The dining destination, which is only open for dinner and only on select nights, accepts reservations.
While the BestColleges.com list specifically recognizes resident dining halls, William & Mary also offers a variety of other dining options as well. In addition to two traditional all-you-care-eat resident dining facilities, the campus is home to 13 retail dining venues, including two convenience stores. Additionally, students can stop by two food trucks on campus: Wholly Habaneros Reloaded offers Mexican-inspired dishes, and 1693 BBQ serves traditional barbeque favorites, like smoked brisket sandwiches and fresh grilled corn.
While W&M's dining program offers plenty of options, it also serves as a valuable tool for engaging students and building community on campus, said Jeff McClure, resident district manager. Multiple holiday celebrations throughout the year encourage students to come together to have fun while enjoying great meals. From Charter Day celebrations to special pop-up restaurant events to opportunities to support community outreach efforts, students can always find ways to engage with the campus community through the university's exceptional campus dining program, McClur said.