W&M community electrified by new solar station
It didn't take long for W&M students to start charging their laptops and phones with the new solar-powered charging station built into a picnic table Tuesday outside Sadler Center.
"The minute they got it installed, people were plugging in," said Randy Chambers, biology professor and Keck Environmental Lab director. Chambers proposed the high-visibility, low-impact project, which was paid for with a $7,500 Green Fee grant.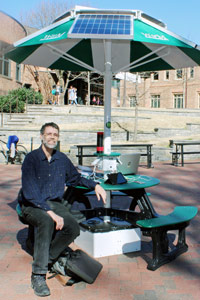 The charging station, installed by EnerFusion, is made from recycled plastic and features an umbrella awning equipped with four solar panels. Two batteries store power and help stabilize the structure. The table features two three-pronged 110V outlets, plus additional USB connections. It has two bright LED lights that can be turned on and off, plus more built-in lights operated on a timer.
"In terms of education, awareness of sustainability and solar energy, I thought it was a great thing," Chambers said. His main motivation was to generate interest in sustainable energy acquisition and use.
Chambers teaches a class in alternate energy, which is always considering efficiency projects for campus. But most projects are large, like outfitting an entire building with solar panels, or small, like wearing a tiny solar panel on a backpack. The solar charging station was just right for William & Mary.
"This project and many others funded by the Green Fee are important," said Sustainability Director Calandra Waters Lake, "because they create the kind of environment on campus that inspires students to think about their impacts and how they can make a difference both on campus and in the world." 
So far, the station seems to be holding its charge. Chambers checked on the batteries Wednesday afternoon, and they remained full, indicating that people are using the power as it is generated, not draining the station's battery reserves.