William & Mary Homecoming set for Oct. 13-16
Next week, alumni from around the globe will return to William & Mary to celebrate and reconnect with classmates and their alma mater. There are many exciting events for the entire William & Mary and Hampton Roads community to participate in, including the annual Homecoming parade, which will take place Friday, Oct. 14 at 4:30 p.m.
For those planning to attend festivities in the afternoon of Oct. 14, please note that the parade route will begin on North Boundary Street before coming up Richmond Road, resulting in the following road closures:
North Boundary Street will be closed from 3:15 to 5 p.m.
Richmond Road from College Corner ("Confusion Corner") to Brooks Street will be closed from 4:30 to 5:30 p.m.
College Corner ("Confusion Corner") will be closed from 4:30 to 5:30 p.m.
Scotland Street from Braxton Court to Richmond Road will be closed from 4:30 to 5:30 p.m.
Richmond Road from Armistead Avenue to Scotland Street will be closed from 4:30 to 5:30 p.m.
Brooks Street to Compton will be closed from 4:30 to 5:30 p.m.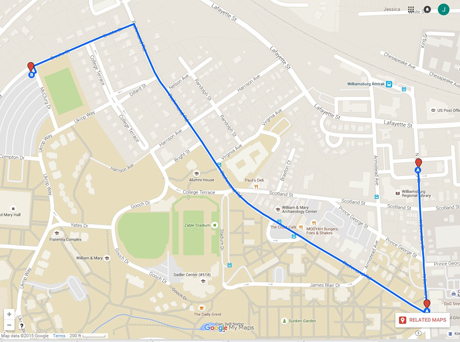 This year, the William & Mary Alumni Association will be coordinating with William "Bill" Schermerhorn '82 to create an exceptional parade experience for spectators.
As vice president and creative director for the Macy's Parade & Entertainment Group, Schermerhorn brought his vision to the Macy's Thanksgiving Day Parade, the second-oldest Thanksgiving Parade in the nation, and Macy's Fourth of July Fireworks, the country's largest Independence Day pyrotechnic display.
Serving as this year's parade Grand Marshals will be Michael Powell '85, D.P.S. '02 and Jane Knott Powell '85. The Homecoming Grand Marshal is an honorary position filled by distinguished alumni and friends of William & Mary. The Grand Marshals receive recognition throughout Homecoming and ride in the lead car during the Homecoming parade.
A current trustee of the College of William & Mary Foundation, Michael Powell served on the Board of Visitors from 2001 to 2009. During three of those years, he served as Rector, becoming the first African-American to serve in that post in William & Mary's history. Michael has distinguished himself in the military, government, business and nonprofit sectors, serving as an officer in the U.S. Army's 3rd Squadron, 2nd Armored Cavalry Regiment; as chair of the Federal Communications Commission; and, as president and CEO of the National Cable and Telecommunications Association.
Jane Powell has served on the boards of the Washington, D.C., chapter of the Juvenile Diabetes Foundation, the Dream Project and SOS Children Villages. Jane volunteers as a tutor and counselor at an alternative high school for students whose life circumstances have interrupted their schooling.
Other highlights of Homecoming include:
Class Reunions: Homecoming weekend provides plenty of opportunities to reminisce with college friends. To find out more about reunion year parade watches, class photos and reunion receptions, go to homecoming.wm.edu.
Leadership Symposium: Rising Waters, Shifting Coastlines: Friday, Oct. 14, 2:30-3:30 p.m. at the Sadler Center. A panel of William & Mary and VIMS faculty, students and alumni will discuss the science behind sea level rise, the implications for our coastal communities and how cross-disciplinary collaborations at W&M are addressing the complex environmental, social, economic and legal issues involved.
Virginia Uncorked — Friday Night Fest: Friday, Oct. 14, 7-11 p.m. in the Sunken Garden, featuring live music, food trucks (pay-as-you-go) and tastings from Virginia breweries, vineyards and distilleries ($25 per person, $15 per Young Guarde member).
Children's Carnival and Wrenstock: Saturday, Oct. 15, noon-3 p.m.: Listen to alumni bands rock out to their favorite sets in the Sunken Garden. While you enjoy the music, bring your children to enjoy inflatables, face painting and more. This year, Wrenstock will feature the Dimeslots, Flannel Animals and the Roadducks.
All-Alumni and Reunion Class Tailgate: Saturday, Oct. 15, noon-3 p.m. in the Sunken Garden with food and music ($25 adult/$15 child).
W&M Football Game: Saturday, Oct. 15, 3:30 p.m. at Zable Stadium. The Tribe will take on the University of Delaware. Call 757.221.3340 to purchase tickets.
Saturday Night Bash: Saturday, Oct. 15, 9-11:30 p.m. in the Sunken Garden. Dance the night away to the sounds of the New Royals, a seven-piece party band. There is plenty of space to lounge and spend time with old friends ($25 per person, $65 with Reunion Reception combo ticket).
William & Mary expects thousands of alumni, students, faculty, parents and friends of the university to participate in this year's extraordinary celebration of Homecoming.
A complete list of campus events and prices are available online.