Tribe baseball stars in two-week hit drama
It didn't take long for Brian Murphy to relinquish his role as miracle worker and resume his role as William & Mary baseball coach.
Earlier this week, just two days after the conclusion of the most dramatically turbulent two weeks in Tribe baseball history, Murphy was in his car, heading to find new players to replace some of the seniors who were key to William & Mary becoming a national story.
For those who don't know, the Tribe faced elimination from both the Colonial Athletic Association tournament and the NCAA tournament six times – and won them all – before finally falling to East Carolina on June 5 in the regional final to finish the season at 31-31.
Among those victories was a triumph over defending national champion Virginia, which knocked the Cavaliers from the tournament.
"Obviously, it was a great experience," said Murphy, who just completed his fourth season. "We're still pretty close to it, so it's hard to get the full perspective on it. This team obviously accomplished a lot over the last few weeks, and I think it was a testament to us getting better over the course of the season.
"I don't think this was 'lightning in a bottle,' or 'Look who showed up out of nowhere.' It was sort of a slow build."
It all started in the top of the ninth inning of what looked to be a certain loss in the first game of the CAA championship in Charleston, South Carolina. The Tribe trailed UNC-Wilmington by seven runs, yet rallied to tie the score and force extra innings.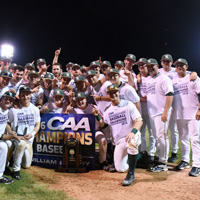 "The remarkable part of that is that it wasn't one explosive hit," Murphy said, "and it wasn't them making errors, either. It was just good at-bat after good at-bat. The tying run came in on a sacrifice fly, not the flashiest way in the world to score that tying run. It was the guys kind of passing the baton to each other. No one really tried to play hero; that was the biggest part of it."
Then came a 27-hour rain delay, followed by sophomore Cullen Large's home run in the top of the 12th that sealed a remarkable victory and set up a winner-take-all rematch later that same day.
"Obviously I've been in some tournaments," said Murphy, who previously served as assistant coach at Brown and Bryant University, which won 132 games and appeared in two NCAA tournament regional finals. "But with some of the outside stuff in Charleston – the comeback, the weather, the range of all the different emotions – it will be something we coaches and players will be proud of for as long as we coach and as long as our guys play."
W&M never trailed in winning the conference crown, 14-9, buoyed by senior Josh Smith's grand slam homer. That set up an opening NCAA game against Virginia, which had scored 16 runs in a regular-season victory over the Tribe.
After W&M lost, 17-4, things again looked bleak. But the Tribe bounced back behind the pitching of junior Nick Brown, eliminating Bryant, 4-3, to set up another game against Virginia.
Freshman Bodie Sheehan, who surrendered nine runs in one inning against Virginia in his previous outing, pitched 5 2/3 innings, allowing just four runs and right hits.
The other hero was junior Charles Ameer, who belted a seventh-inning homer over the left-centerfield wall, the deciding run in a 5-4 triumph.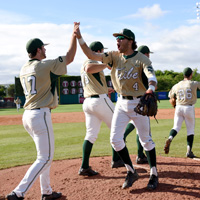 "Short memory from (Sheehan)," Murphy said. "He got some confidence from our team, and then it was guys rising to the occasion. I think that win was pretty special to our guys, in addition to keeping the season alive. Our team is probably 70 percent Virginia native. Everybody is very familiar with UVA's success, so I think that had a little special appeal to it."
Twenty-six of the 32 players on the roster were underclassmen, meaning the nucleus exists for next season to also be special.
"We'll lose some guys, but the majority of the guys on the field were younger," Murphy said. "The experience those guys gained all season long – but especially the last couple of weeks when you're playing that caliber of competition and having success, that can feed off itself a little bit.
"A lot of the pieces will be back, and hopefully they'll continue to improve and we can sustain a pretty good level of play."