The Chainsmokers bring EDM to W&M Hall
Students filled William & Mary Hall April 7 in fervent anticipation of seeing The Chainsmokers, an electronic dance music (EDM) DJ duo, and special guest New Politics, a Danish rock band.

"I've been a fan for a while," said Jason Sancen '17. "I've been listening to them since at least high school."
Dressed in Coachella-esque attire and neon bracelets, students and community members alike sang and danced along as New Politics performed songs like "Everywhere I Go (Kings and Queens)," "West End Kids" and "Harlem."

After New Politics finished, it was time for headliners, The Chainsmokers, to take the stage. The DJ duo consisting of Andrew Taggart and Alex Pall, filled the arena with lights, smoke and EDM mashups that got everyone on their feet.

While performing, Pall, showed off his Tribe Pride by borrowing the basketball practice jersey of sophomore guard Greg Malinowski '18.

Although they were only semi-familiar with EDM, friends Madison Hauser '19 and Lauren Sport '19, who scored floor tickets, were excited to attend the concert, noting the energy in the room.

"I think a lot of people are really excited about [this]," said Hauser.

After the concert, The Chainsmokers got a special surprise when William & Mary a capella group Reveille sang a mashup of the duo's "Roses" and "What Do Ü Mean." The Chainsmokers tweeted about the performance and posted a video of it on their Facebook page.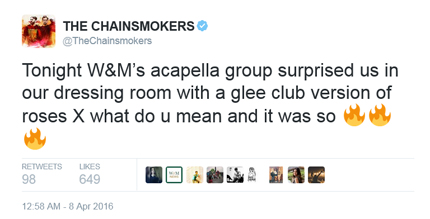 Alma Mater Productions (AMP) and the W&M Student Assembly (SA) sponsored the spring concert.

"Usually, all the different committee members get together and look at our different agencies – we're assigned agencies – and we figure out who's available and in what price range," said Ethan Baker '16, chair of AMP's music committee.

"The Chainsmokers with their single 'Roses,' you can't not turn on the radio and hear it, so we thought with that popularity the campus would just love it. It's just high energy, and a lot of strong concerts in Kaplan are high-energy concerts," Baker said.

When asked about what he likes most about AMP and SA putting on concerts every year, Sancen noted the affordability and convenience of events such as this.
 
"I think it's pretty cool," says Sancen. "It's a really good way for the students to come and watch concerts, and  it's a lot less expensive and a lot less difficult to get to than if you had to travel to a venue in Richmond or Norfolk."