Omohundro Institute offers internships for the future
Nine new editorial apprentices have officially taken their place at the Omohundro Institute of Early American History and Culture at William & Mary. Soon, first-year graduate students Mitchell Oxford, Frances Bell, Emily Wells, Rebecca Capobianco, Holly Gruntner, Cody Nager, Christopher Slaby, Ravynn Stringfield and Kaila Schwartz will dot I's, cross T's, scour footnotes and perform all of the usual duties of an academic editor for the 2016-17 academic year.
Before that, however, eight of them will continue in a tradition the Omohundro Institute has employed for more than half a century. They will be trained in the art of editing, ultimately giving these M.A. and Ph.D. hopefuls the opportunity to further the very scholarship they engage with daily in the classroom
Over the course of a few weeks, these students will test their grammatical knowledge, begin mastering the Chicago Manual of Style and familiarize themselves with copyediting, proofreading and the hairy process of transcribing 18th-century documents.
Once training has been concluded, they will work for the William & Mary Quarterly and Institute Books, which are acquired by the Institute and produced at the University of North Carolina Press. Capobianco will serve solely as book review assistant for the William & Mary Quarterly.
Omohundro Institute Director Karin Wulf said she sees the institute's work as "the New Yorker of academic publishing."
Publishing such high-caliber scholarship does not come easy. It requires a team of dedicated authors, in-house editors and outside reviewers to bring manuscripts and articles to press.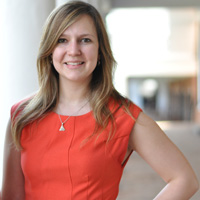 History graduate students Nicole Penn and Katherine Cartwright recently completed their year of service as editorial apprentices.  Together with other members of the team, they played essential roles in making the intellectual ecosystem flourish.
During their first semester as apprentices, Penn and Cartwright learned the intricacies of editing books slated for publication through the institute's partner, the University of North Carolina Press. The following term, they switched gears, learning to grapple with articles set to appear in the William and Mary Quarterly. Through it all, Penn and Cartwright received continued support, advice and training through weekly tutorial sessions with in-house editors.
According to Penn, this means apprentices must "go through every single citation to prove that it exists, to prove that quotes are being used in context."
Cartwright agreed, adding that she sees her job as catching and correcting "any mistakes an author might make" in the long process of writing.
It's not only a time-consuming process, but it is "astonishing," Penn remarked, just how sharp an eye editors must possess in order to catch and correct potentially embarrassing grammatical gaffes.
Luckily, she said, the institute's apprentices do their job well.
"I tell my friends," Penn said, "don't believe anything you read, unless it's an Omohundro book."
Virginia Chew, managing editor of book publications at the Omohundro Institute, called the work apprentices do "invaluable."  
"Accuracy has become ever more important as access to texts increases through online resources," Chew said, "thus allowing mistakes and misquotations to easily proliferate."
Apprentices ensure that accuracy.
While the training is rigorous, the rewards are great. Cartwright said she had become more aware when looking at sources. Editorially speaking, she felt she had gained "exposure to everything."
Penn, who studied the intersection of religion and violence during the French and Indian War as a master's degree student, said that she gained the opportunity to work with top scholars in her discipline. To her, this "is one of the attractive parts of William & Mary."
Cartwright, a Ph.D. student interested in the history of education in the early American republic, seconded Penn, seeing this opportunity as "an internship for the future." The institute, she continued, seeks "to prepare us for whatever we might do" down the road. 
For some, that road has led to a professional career in editing. After proving her mettle during the 2011-12 school year, former apprentice Kaylan Stevenson '13 began freelancing for the Institute, where she helped polish the final draft of a William and Mary Quarterly article. This experience, Stevenson believes, "was essential to my being able to interview" for, and land, her current position at the institute as a manuscript editor.
Not every graduate student who works with the institute will follow Stevenson's path to become an editor. But by exposing apprentices to the editorial process over the years, the Omohundro Institute has helped ensure that future historians, whatever their vocation, will continue to eye their own work with increased scrutiny.