Two W&M faculty members receive McGlothlin Award for exceptional teaching
The inaugural McGlothlin Faculty Teaching Award was recently bestowed on two outstanding faculty members from the Raymond A. Mason School of Business and William & Mary Law School. James W. McGlothlin '62, J.D. '64, LL.D. '00 and Frances Gibson McGlothlin '66 established the award with a generous endowment to the respective schools to recognize innovative, excellent educators who have demonstrated a sustained commitment to teaching.  
The recipients of the award are Allison Orr Larsen '99, of William & Mary Law School and Jim Bradley, of the Raymond A. Mason School of Business. Recipients receive a $50,000 prize that is awarded during Commencement.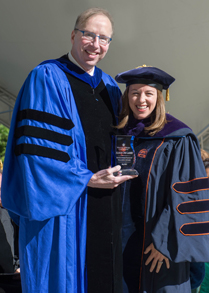 As part of the criteria for the award, professors must also show an extraordinary commitment to engaging students both inside and outside the classroom and provide leadership in the development of innovative new courses that advance teaching excellence at William & Mary.  
"I am tremendously honored to receive this award," Larsen said. "I myself have been the beneficiary of great teaching at William & Mary — both when I was an undergraduate student and now by watching and learning from my talented colleagues at the law school. The commitment to teaching at William & Mary is real and deep."
The McGlothlins, who split their time between residences in Bristol, Virginia, and Naples, Florida, have been longtime supporters of William & Mary. Their endowment supports efforts at the university to retain and reward superb professors who are powerfully committed to their students.
"I feel especially fortunate for having won this award because I was selected from among 10 very strong applications, which were whittled down to four finalists," Bradley said. "The strength of any one of these finalist's applications would have justified winning this award. We have many excellent teachers and there has never been so much development of innovative educational content. The excitement around this new award will only further motivate efforts along these critical dimensions."
Larsen received tenure this year. She is a 1999 graduate of William & Mary and graduated at the top of her class at University of Virginia's Law School. Larsen clerked for Judge J. Harvie Wilkinson III on the U.S. Court of Appeals for the Fourth Circuit and for Justice David Souter on the U.S. Supreme Court. She spent several years as an associate in the appellate practice group at O'Melveny & Myers in Washington, D.C., before joining the W&M Law School faculty in 2010.
Last year, Larsen won the university-wide Plumeri Award for Faculty Excellence. In 2013, she was awarded the Walter Williams Jr. Memorial Teaching Award, given annually to one professor selected by the graduating class. The State Council for Higher Education selected Larsen for an Outstanding Faculty Award in 2014, an honor that recognizes excellence in teaching, research, and service. Larsen was also recognized as an early career "Rising Star" by SCHEV.
"We are delighted that Jim and Fran McGlothlin have created this extraordinary teaching award," said Davison M. Douglas, dean of William & Mary Law School. "One of the hallmarks of our law school is our faculty of gifted teachers who exhibit a powerful commitment to the education of our students. Jim and Fran's Faculty Teaching Award is a wonderful recognition of the centrality of strong teaching to a William & Mary legal education. And Allison Larsen is a marvelous inaugural recipient of this award."
Bradley received his B.E. in mechanical/electrical engineering from General Motors Institute and is a graduate of Tuck School at Dartmouth College where he earned an M.B.A. He received his Ph.D. from Stanford University. Prior to earning his Ph.D., Bradley worked 15 years in manufacturing with General Motors. 
"This award captures the vision of Jim and Fran McGlothlin which is to reward those faculty that exceed traditional teaching responsibilities with the goal of making the William & Mary student experience the very best it can be," said Dean Larry Pulley '74, of the Raymond A. Mason School of Business. "There are many reasons to give this award to Professor Bradley, one of the most compelling of which was his ability to not only conceptualize a brand new degree in business analytics but lead the effort to its successful launch next August."   
Bradley will oversee the development and deployment of the Raymond A. Mason School's new master's degree in Business Analytics, which will start this fall. He is currently the Hays Watkins Professor of Operations and Information Technology. 
Both Bradley and Larsen routinely receive superb evaluations from their students. Larsen is described by students as dynamic, clear and challenging. Bradley is known for his ability to connect with undergraduate and M.B.A. students while finding new and innovative ways to capture their attention in the classroom.
"We are very thankful to Jim and Fran for establishing this award, which is an exceptional way to recognize world-class faculty who go above and beyond in their commitment to providing a high-caliber education for students at William & Mary," said Matthew T. Lambert '99, vice president for university advancement. "Their dedication to enhancing the academic experience is truly inspirational and worthy of this special honor."