Four receive W&M Alumni Medallions
The following story originally appeared in the winter 2016 issue of the W&M Alumni Magazine - Ed.
The highest and most prestigious award given by the William & Mary Alumni Association, the Alumni Medallion is presented to those who truly embody what the university has stood for during its revered history. For their leadership, professional accomplishments and commitment to alma mater, four alumni were selected this year as recipients of the Alumni Medallion.
Ann Harvey Yonkers '63
Ann Harvey Yonkers might not remember all the details of her career at William & Mary, but she but she does remember that she was a busy bee. "There were so many fascinating things going on at the College, I suffered from not being able to say no," says Yonkers. "I just wanted to experience as much as possible."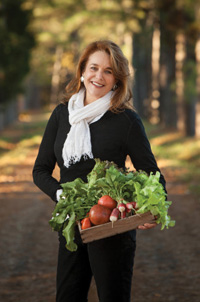 Yonkers followed her older sister to William & Mary and was followed by her younger sister. "My sisters inspired and connected me," says Yonkers. "I loved being on campus with them."
Her senior year, Yonkers won the W&M Exeter Exchange Scholarship to study in Devon, England. Initially, she thought she would use it as a growing period, studying literature. But in true form, she couldn't turn down the opportunity to pursue a master's degree in government. She completed her thesis on Winston Churchill after returning home and did it by "distance learning the old fashioned way," sending drafts by mail to her tutor.
Yonkers went on to live in Benin, West Africa, where her husband served as the Peace Corps director. There she discovered a love for fresh local food, which would eventually bloom into a full-scale career.
Yonkers' passion inspired her to earn a professional culinary degree and to found her own cooking school called the American Table. In 1997, she co-founded FRESHFARM Markets, a nonprofit whose mission is to build and strengthen the local, sustainable food movement in the Chesapeake Bay watershed.
Today, FRESHFARM Markets operates 13 producer-only farmers markets, involves 150 farmers and producers as vendors, and attracts close to half a million shoppers every year. Yonkers says she and her markets are part of a "delicious revolution" that is creating an alliance among farmers, customers, chefs and policymakers.
"Nowadays, people are voting with their forks," says Yonkers. "Food is very political. Farmers' markets are successful change agents because they are persuading the public to choose a different kind of food and agriculture through the sensual flavors of fresh food. No one has to imagine what a healthy and sustainable food system would look like because the word is made flesh in the markets and the benefits are obvious and compelling."
— Meredith Randle '16
Walter W. Stout '64
Walter W. "Pete" Stout '64 personifies William & Mary's marriage of academic rigor to extracurricular involvement. As an undergraduate, Stout studied sociology, was a part of ROTC, played football, ran track and enjoyed membership in Sigma Alpha Epsilon. Following his life at William & Mary, Stout studied law at the University of Richmond, then went on to serve as an Army officer, during which time he earned a Distinguished Officer Award and a Bronze Star for involvement in armed conflict in Vietnam.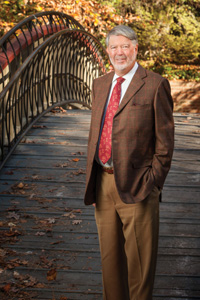 Post-military life, Stout moved to Richmond, Virginia, and created his own law practice. He started work as a district court judge in 1984, ascending to the distinction of circuit court justice 10 years later. He also began reacquainting himself with W&M.
"I worked for the Richmond alumni chapter before moving up the ranks. It was a fun experience working with good people. I stayed active because I was so interested in being involved with the activities that make up such a great school."
Stout became president of the Alumni Association and served from 2004-06, all the while maintaining his contributions to Tribe Athletics, which included time presiding over the Tribe Club from 1983-85.
Stout is no stranger to the Alumni Medallion award; his uncle, Carroll Quaintance '24, the inspiration for Stout's enrollment at William & Mary, had the honor bestowed upon him in 1934.
"Being president of the Alumni Association was a great feeling because it was the same position that my uncle once held," Stout says. "I loved knowing that I was serving the College in the same way as the man who caused me to go there."
Stout cites the Crim Dell Bridge as a favorite spot on campus, a gift that his own graduating class granted William & Mary. He views it as having the same permanence as the type of student that thrives at the university.
"What I see in this student body is a group of kids that are so involved with the outside world," Stout says. "They are trying to shape it and make it a better place, and that is incredible."
— Vayda Parrish '17
Jane Thompson Kaplan '56
Jane Thompson Kaplan '56 swears she came to William & Mary accidentally. Growing up just outside of Chicago, she had never heard of W&M until her friend Donna asked if they could apply together. When Jane was accepted, she learned that Donna hadn't even sent in an application. "Donna takes full responsibility for my whole life," Kaplan says. "She sent me here."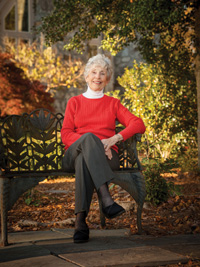 Though her beginnings at William & Mary were unexpected, Kaplan's involvement on campus was no accident. She served as both a member of Kappa Alpha Theta and on the Panhellenic Council, and presided over Kappa Chi Kappa, a community service organization. "My roommate and I also had a Brownie troop. I don't think we were well-qualified, but we did it."
Kaplan's motivation to serve followed her after graduation. After many moves around the country, Kaplan felt called back to Williamsburg. Since returning, Kaplan and her husband, Jim '57, have been a big part of the W&M community. Both served on the Tribe Athletics board and Jane co-chaired the Lord Botetourt Affair, the Tribe Club's premier auction event, for a few years. The Kaplans' dedication to athletics goes way back.
"Jim played basketball here. That's part of why we give back — because he was on a full scholarship. I think it's important to give people financial assistance. It's nice that students who might not otherwise be able to come here now can with our help."
Jane also created the Wine & Run for the Roses auction for the Muscarelle Museum of Art. Looking for ideas on how to fundraise effectively, Kaplan turned to a college friend, who suggested a wine auction. The auction has become a major fundraiser for the Muscarelle.
When asked why she so faithfully serves William & Mary, Kaplan says, "It's a good place to give back to. It's part of the mantra of the College — volunteerism. And socially, it's wonderful! It's a great way to meet people, it's a great way to expand your horizons, and it's enjoyable to me. I get more out of it than I give."
— Meredith Randle '16
Glenne Hines Harding '65
Being on the opposite coast has not stopped Glenne Hines Harding '65 from giving back passionately to William & Mary.
After obtaining a degree in psychology, Harding worked in marketing and manufacturing administration for Hewlett-Packard. She developed a knack for the business world and was inspired to apply for the company's then male-dominated M.B.A. engineering program at Santa Clara University. Of the nearly 1,200 students in the program, she became one of only 33 enrolled women.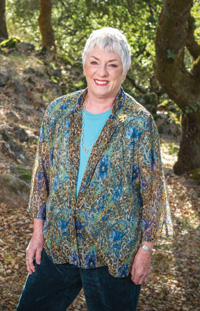 Harding's multi-cultural travels for HP marketing and her established status as an empowered woman garnered her an invitation to join Zonta International in 1973, a worldwide service organization dedicated to advancing the status of women.
"I traveled all over the world for HP looking at the programs for which I was responsible," Harding says. "Zonta, too, is very international. Advancing advocacy for women translates the same in many languages."
While still involved with Zonta, Harding became HP's first female division controller in 1980, a position that kept her involved with the company for the entirety of her 33-year-long business career.
Harding's world travels and experiences as an out-of-state undergraduate student inspired her habit of giving back to William & Mary.
"When I came to William & Mary from Tennessee, there were no scholarships for out-of-state women. Many people in my early years in California had never even heard of the school. My willingness to give back to the College's vision and to pay back the benefits I received would be the same no matter my geographic location."
Harding's undergraduate involvement included membership in Kappa Delta sorority, for which she served as both social chairman and chapter president, as well as membership in the school orchestra as a violinist. She was co-chair of the Class of 1965's 45th and 50th reunions and also recently rejoined the Fund for William & Mary Board of Directors.
Harding hopes that current students share her positive experiences without limiting themselves.
"Don't be in too big of a hurry to narrow things down," says Harding. "Even without a specific career path in mind, you can always build on what you know. Everything you do can prepare you for the next thing. Enjoy what you do. Do it as well as you can. Life will open up."
— Vayda Parrish '17