Could 'sand diplomacy' temper Chinese aggression?
Amanda Blair theorizes that the United States may soon find itself in position to orchestrate a new method of negotiating with China.
She calls it "sand diplomacy."
And not just any sand, but marine sand, the type used to produce concrete.
"The Chinese government aims to increase the urban share of its population to 60 percent by 2020," Blair, a senior at William & Mary, said recently in presenting her white paper entitled "Sand Wars: Beijing's Hidden Ambition in the South China Sea."
Her work was part of the 2016 Project on International Peace and Security (PIPS) research symposium, which took place in Washington Hall on April 8. A week later, she and six colleagues reprised their white papers and conducted question-and-answer sessions at the National Press Club in Washington, D.C.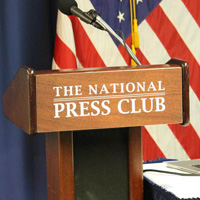 "Sand is one of the most highly coveted commodities in the world," Blair continued. "It is mined extensively throughout Asia . . . However, it is also a non-renewable resource. With rapid urbanization in countries such as China, natural sand reserves are quickly nearing depletion."
Blair's research showed that in the last three years, China used more concrete than the United States did during all of the 20th century. Last year, China's National Development and Reform Commission approved plans for more than 1,000 mega-infrastructure projects. Extensive mining of the country's traditional sand sources – including the Yangtze River – has been exhaustive.
So what can China do? Artificially manufactured sand, widely used in the U.S., hasn't gained a foothold in Asia primarily because of the inconsistent quality of materials and the high price associated with production and transportation to urban centers.
Blair said that means China is likely to turn to dredging the South China Sea, where it already claims roughly 90 percent of the area and asserts its right to explore those waters for natural gas and oil-sand reserves. In addition, it already possesses far more sophisticated dredging equipment than the other states in that area.
"Beijing's aggressive pursuit of sand will exacerbate ongoing disputes and jeopardize the United States' strategic interests in the Asia Pacific," Blair said.
Other potentially devastating factors are in play. Blair said that should China deign to commandeer dredging operations in the South China Sea, its presence could threaten freedom of navigation and disrupt trade flows that amount to $1.2 trillion annually and "militarize" the region. That would undermine important security commitments the U.S. has with Indonesia, Malaysia and Vietnam, not to mention posing a serious threat to the environmental security of American allies in the Asia Pacific.
Currently, U.S. policy ignores the sand dilemma and underestimates China's resolve to control the South China Sea. Blair said that's a serious mistake that must be addressed.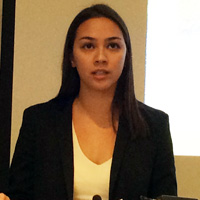 "To implement sand diplomacy, Washington should factor sand into its diplomatic calculus and use the research and development of manufactured sand to influence Chinese behavior," she explained. "Competition for sand may present an additional source of conflict that will likely complicate ongoing negotiations and diplomatic exchanges."
Blair recommends that the United States share its knowledge of sand manufacturing with its counterparts in Southeast Asia and help them accrue methodologies, support technological advancements and establish industry standards. Once the research and development of manufactured sand is complete, U.S. allies can achieve lower production costs for higher quality material, and hold two important bargaining chips over the Chinese.
"If offered an attractive alternative to fine concrete aggregate, Beijing will be more willing to participate in multi-lateral negotiations," she said. "Alternatively, Washington can encourage its allies to restrict exports of manufactured sand in response to hostile behavior. Sand diplomacy then becomes a multi-purpose tool that can either incentivize cooperation or dissuade aggression in the South China Sea."
Blair said that even in the event of a party change in the White House in November, the Asia-Pacific region will remain important to U.S. interests.
"Unless the new administration recognizes sand as a potential driver of conflict, peaceful resolution of ongoing disputes will become increasingly difficult," she said. "My policy proposal outlines one potential opportunity for Washington to shape Beijing's behavior in the South China Sea. By raising the costs of action, sand diplomacy can provide a useful tool to ensure the realization of U.S. strategic goals in the region.
"Moreover, the issue of sand scarcity is not exclusive to the Asia Pacific, and may disrupt peace in other regions of the world, such as West Africa and the Indian Ocean. For that reason, the incoming administration should factor sand into U.S. policy more generally."