Carrying her story of depression, and hope, to American colleges
Chamique Holdsclaw told a room full of William & Mary coaches and athletic staff members that she always had control of her body during a basketball career that included high school titles, NCAA championships, the title of "the next Michael Jordan" and 11 seasons in the WNBA.
It was her mind she couldn't handle.
Holdsclaw spent parts of two days at W&M April 20-21 speaking to student organizations, varsity teams, student health groups and counseling center staff, detailing her slide into what ultimately was diagnosed as depression and bipolar disorder. On April 21, Holdsclaw showed her film, "Mind Game," at Commonwealth Auditorium. Her appearance was part of her work with the Jed Foundation, a national organization whose stated mission is to promote emotional health and prevent suicide among college and university students.
"Everything that was involved in her becoming the athlete she is and the person she is, I really felt it was important to bring her, along with the film, here so students could ask questions, interact with her and see that it's all going to be OK," said Warrenetta Mann, director of the William & Mary Counseling Center.
The price some college athletes pay
 
Mental health and college athletics have never been more linked than today. According to the most recent data compiled by the NCAA, suicide was the third-leading cause of death among student-athletes from 2004-2008, after accidents and cardiac causes.
According to the American College Health Association's National College Health Assessment, 21 percent of male college athletes and 27 percent of female athletes reported that, in the past 12 months, they felt "so depressed that it was difficult to function." Nearly half of female athletes reported feeling "overwhelming anxiety," as did more than 32 percent of male athletes.
Stressors include overtraining, injury, pressure to perform, lack of free time or trying to juggle athletics and schoolwork.
Holdsclaw could have been the poster child for those studies. Despite growing up in the projects of New York City, the child of alcoholics, and ultimately being raised by her grandmother, June Holdsclaw, she was a high school superstar who caught the eye of Tennessee's legendary coach, Pat Summitt.
Holdsclaw already had some vague idea that something was not right with her, but she rode the wave of high school stardom, where "all of my issues were always swept under the rug."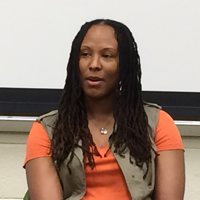 "I was good at something, so people always pulled me along," she said. "I go on to college, and I'm so down, so depressed. Playing at Tennessee was a great thing I wouldn't trade for anything in the world, but there's a certain level of excellence I had to deal with."
The first day Holdsclaw arrived on campus, she was given a planner. She was told to know her academic schedule, go to all classes and sit in the first three rows so the professors could see her. Basketball? Know what time practice starts – and be there 45 minutes early.
"You walk into that [Tennessee] arena, and there are all these [championship] banners," she said. "One hundred percent graduation rate. There's all this pressure. I'm trying to figure out how to cope."
Seeking help – and ignoring it

She went to Summitt once, telling her that something wasn't right. The coach gave her the name and number of a counselor. Holdsclaw went a few times, found the person boring and ignored the advice.
Following a career in which Tennessee won three consecutive national championships and Holdsclaw was twice player of the year, she was the first pick in the 1999 WNBA draft, taken by the Washington Mystics. Nike designed a shoe especially for her, handed her a $500,000 contract and she and Michael Jordan filmed some commercials together.
Holdsclaw was rookie of the year and made her first of six all-star appearances.
"I never had any money and now I'm in Washington, D.C., and my picture is on billboards, everywhere," she said. "I remember going through every day a bit detached. I'm this great athlete, and I go home every night feeling this severe loneliness, feeling detached."
She finally told her family about it. They listened in disbelief, telling her that she'd made it, that she had nothing to be unhappy about. She told her pastor. He told her she wasn't praying enough.
When her grandmother died, Holdsclaw retreated to her apartment for three days. No one knew where she was. She didn't answer the phone or door, not even when Summitt flew in from Tennessee. Today, she says she has no recollection of anything that happened during those three days.
Unhappy, she asked to be traded and was sent to Los Angeles. She thought it would be better. It wasn't, and one day she woke up in the hospital, on suicide watch. She'd overdosed on what her doctor called "her brain medication" for depression and bipolar disorder.
She said she made a pact with God that day, that she'd use her status as well-known athlete to tell her story.
"The more I opened up about my issues, the more I realized [people] were going through the same things; not just as students, but as people," she said. "It may not affect you, but it affects someone in your family. My goal is to put it out there and to change the conversation."
Tribe coaches educating themselves

W&M coaches listened, and they asked questions. They asked how to get through to athletes in denial. They asked about getting through to parents with the same mindset regarding their children. They asked about the finances of treatment. They asked about how to talk – what to say – to athletes who come to them confessing that "something's just not right."
Holdsclaw didn't pretend to have all of the answers. But as the questions rolled in, she continued to reveal anecdotes about herself in hopes of shedding light on what Tribe coaches might do.
She told them that since starting with Jed, pro athletes from every sport had contacted her to say thanks, that they were dealing with the same issues and now would get help. She told the W&M staff members to be supportive, encouraging, to listen and help students go to the resources available. She advised them to let parents know that their child's issue was serious, but treatable if handled properly.
"I was afraid to say I was depressed," she said. "I was afraid to say I was dealing with mental illness."