Bald eagles (probably) aren't nesting on campus, but they're close
It's nesting season for bald eagles, and the birds are nesting closer and closer to campus — but William & Mary's naturalists have found no eagle nest on the campus itself. Yet.
The most likely place on William & Mary's campus for eagles to build a nest is in the trees of the College Woods, surrounding Lake Matoaka. Randy Chambers, director of the Keck Lab on the shores of Lake Matoaka, has been seeing a pair of bald eagles around the lake, heightening speculation that the university may be hosting a nest.
Bryan Watts and Mitchell Byrd of the Center for Conservation Biology have conducted spring census flights of nesting bald eagles for 25 and 40 years, respectively. Eagles like to nest near water, ideally in large trees with "crown access," offering unimpeded approach to the nest site for the large birds, Watts said. Eagle nests have become numerous in large trees along the rivers and near Chesapeake Bay. An eagle nest near Lake Matoaka in the College Woods is entirely feasible and Watts and Byrd made a point of looking for one during one of their low-altitude flights.
"We flew the College Woods and didn't find anything," Watts said. "We have five nests now on College Creek and it's just a matter of time until they do nest in the College Woods. If there is a nest there now, we don't know about it."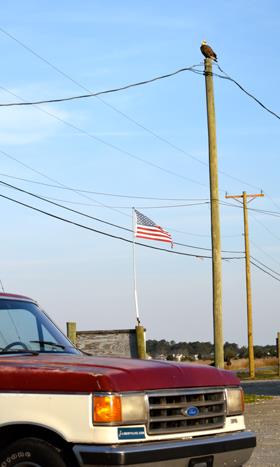 The birds have been seen on and around campus for years, but as eagles have become more numerous on the Virginia Peninsula, they have become more accustomed to people. A few years ago, a typical campus sighting of a bald eagle would be a bird flying high over the Sunken Garden. These days, William & Mary is getting much closer looks at the national bird.
Eagles don't always land at William & Mary, but when they do, it seems that they come to eat. A widely viewed social media post shows a short video of an eagle perched in a tree near the Wren Building, regaling upon a rabbit. Biology Professor Dan Cristol found a bald eagle in the median of Ironbound Road, just on the other side of the College Woods and snapped a phone picture. The bird was dining on an unfortunate road-kill deer, showing nothing but aplomb despite being in the middle of four lanes of traffic.
The great birds are quite common in the Bay area, more numerous than they have been since Colonial times, Watts said. Cristol took his Ornithology class on a field trip to Poquoson last week. One of the members came back having secured what Cristol said might be the most American photo ever — a bald eagle, the American flag and a pickup truck.