W&M welcomes first associate provost of e-learning initiatives
William & Mary will welcome a new associate provost of university e-learning initiatives in February, when Michele Jackson joins the university to oversee the launch of new technology-enhanced projects.
Jackson will work with faculty, deans, Chief Information Officer Courtney Carpenter and Provost Michael R. Halleran to prioritize central support for e-learning at W&M and work with the university's Information Technology office to create the infrastructure to deliver effective e-learning resources.
"I am delighted to have Michele join us at William & Mary and am excited about the future of e-learning here at the College," Halleran said. "I expect her emphasis on pedagogy and broad experience at the intersection of technology and teaching will help the W&M community take advantage of digital technology to advance in many dimensions our distinctive liberal arts university."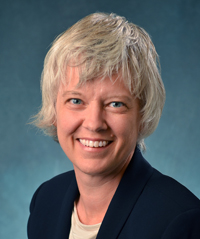 Specifically, Jackson will work with W&M schools and departments to provide easy-to-navigate ways for faculty to receive help with e-learning initiatives and will partner with deans, chairs and program directors to design both hybrid and online courses and programs. She will also hold a faculty appointment in the School of Education.
"William & Mary can really set the standard for e-learning for liberal arts education," Jackson said. "I believe the commitment of faculty and students to a liberal arts experience can create new and interesting opportunities for e-learning. And there are many faculty already engaging in e-learning. I hope to leverage this interest and energy to move forward in a strategic and systematic way."
Most recently Jackson has been the founder and director of ASSETT: Arts & Sciences Support of Education Through Technology and an associate professor of communication at the University of Colorado, Boulder.
"I bring a focus on identifying resources, developing capacities and building for sustainability," she said. "My approach is pedagogy-centric. It's centered on teaching and learning rather than centered on the technology itself. The foundation is education, and we just look at technology as a tool."
Jackson began at Boulder as an assistant professor in 1998, and has since held academic positions as a visiting instructor at both the Instructional Technology Program at the Holon Institute of Technology in Israel and at the Media Technology and Informatics at the School of Computer Science, Physics and Mathematics at Linnaeus University in Sweden.
She chaired Boulder's Department of Communication from 2005 through 2009. She was also a cofounder and associate director of CASE (Civic and Social Engagement) for Sustainability in the communications department.
Jackson spearheaded a number of communication technology initiatives at Boulder, starting in the 1990s. She was founder and director of Technology Across the Curriculum, founder and director of the Communication Computer Lab and founding manager of the Communication Research Computer Lab.
Jackson said she hopes to promote a conversation on ways to unite W&M's core commitment to undergraduate teaching with technology's promise of breaking through boundaries. She sees opportunities to leverage technology in the new COLL curriculum and in creating a lifelong community for alumni, among other ideas. She will also be responsible to oversee and help implement projects supported by W&M's Creative Adaptation Fund.
Her appointment comes at a pivotal time for William & Mary's tech initiatives, as the Raymond A. Mason School of Business launches the university's first all-digital degree program in its Online MBA (though a weekend residency will be required).
The university has devoted increasing attention to appropriately adopting technology to enhance its undergraduate teaching, with Halleran appointing the first director of e-learning initiatives in the fall of 2013, and now elevating that position to associate provost.
Jackson's scholarship includes published papers on technology and teaching, communication technology and theory and organizational communication. She has served as editor of the Journal of Applied Communication Research and Women's Studies in Communication and has sat on countless editorial boards.  She has also received a number of awards, fellowships and grants.
Jackson received a doctoral degree in speech communication and organizational communication from the University of Minnesota, where she also earned a master's degree in speech communication and rhetoric. She received a bachelor's degree from Macalester College in St. Paul, Minnesota.