W&M receives $1M gift to bolster Master of Accounting and MBA programs
The Raymond A. Mason School of Business at William & Mary is bolstering its Master of Accounting and M.B.A. programs with the support of a $1 million commitment from John Rathbone, former chief financial officer of Norfolk Southern Corporation.
John Rathbone's gift was inspired by his two sons, Jay '02, M.Acc. '03, and David '05, M.B.A. '11, both of whom received a state-of-the-art education at the Mason School. Jay Rathbone is currently a senior accountant with the United States Treasury Department, and David is the founder and owner of Saw and Mitre Frame Company, an internet-based company providing museum-quality framing to photographers.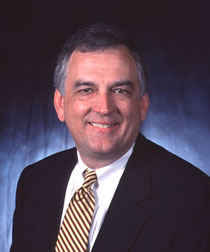 The Mason School has a strong reputation for producing high performing graduates ready for challenge and success in their careers. This speaks to the School's focus on its highest priority, which is ensuring students are well-prepared to make an impact as leaders in today's competitive global economy.
"Our collective success can be attributed to the education we received at William & Mary," Rathbone said. "I treasure my association with the College and am happy to give back." Rathbone took accounting classes at William & Mary in the 1970s, after he graduated from Virginia Tech.
Rathbone dedicated $800,000 of his gift to establish an endowment supporting the most pressing needs of the Master of Accounting program and the M.B.A. program. He has made an additional outright pledge of support for $40,000 for those five years – $200,000 total– to be used immediately while the endowed fund reaches its goal. The dean will allocate these funds to one or both of the graduate programs.
"The Mason School community is grateful to the Rathbone family for their incredible generosity," said Larry Pulley '74, T.C. and Elizabeth Clarke professor and dean of the Business School. "The Rathbone endowment will make a lasting impact on our graduate programs and will help us ensure that our graduates are truly career-ready."
William & Mary's full-time M.B.A. program has been ranked among the best programs by Forbes, Businessweek, and U.S. News & World Report. The university's accounting program ranked fifth in Public Accounting Report's Annual Professor's Survey in 2013 and 2014.
"William & Mary has great faculty, administrators and leaders. They set high standards and have earned the College a great reputation," concluded Rathbone.
Rathbone chaired the Parent and Family Council and is an emeritus trustee of the William & Mary Foundation. He joined Norfolk Southern's predecessor, Norfolk & Western Railway Co. in 1981. He served in several auditing positions being named vice president and controller in 1992, executive vice president of administration in 2004, and executive vice president of finance and chief financial officer in 2012. Norfolk Southern operates the most extensive intermodal network in the East and is a major transporter of coal, automotive, agricultural and industrial products.