W&M ranks among top 20 universities for service work
William & Mary is classed among the top 20 national universities for service work, according to new rankings released today by Washington Monthly magazine.
The university ranks 17th for community service participation and hours served. William & Mary also ranked as the 35th best national university overall, jumping three spots from 38th last year.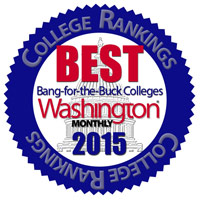 The Washington Monthly rankings aim to flip convention on its head by weighing different aspects of college life than traditional rankings, according to a release announcing the rankings. "This [ranking] asks not what colleges can do for you, but what colleges are doing for the country," the magazine explains.
Universities are rated on their contribution to the public good by considering "social mobility (recruiting and graduating low-income students), research (producing cutting-edge scholarship and doctoral degrees) and service (encouraging students to give something back to their country)," according to the rankings.
William & Mary is consistently named among the nation's top schools in such reports. Last month, it was named third among state schools by Forbes magazine and last year was ranked second in undergraduate teaching by U.S. News and World Report.
In March, U.S. News and World Report also gave William & Mary's graduate schools high marks in its annual graduate school ranking, specifically advancing the William & Mary Law School and the Raymond A. Mason School of Business' FlexMBA and full-time MBA programs. That was followed this month by Nerdwallet.com's inclusion of the Mason School in its top 10 "Business Majors: Best Colleges for Your Buck" ranking.
Among its other distinctions, William & Mary in the past year has been recognized for high four-year graduation rates (Money Magazine), as a top "green" college (Princeton Review) and as a notable producer of Peace Corps volunteers (Peace Corps).