William & Mary Public Policy Program expands scope of offerings
Beginning fall 2016, the William & Mary Master of Public Policy Program will offer an international development and policy track in addition to its existing domestic policy offerings.
The new program will be officially launched at a special event in Washington, D.C. today. Recruitment for the 2016 class will begin immediately.
"Broadening the scope of this program will allow us to better prepare our students for careers in public policy formulation and evaluation," said Sarah Stafford, director of the Public Policy Program.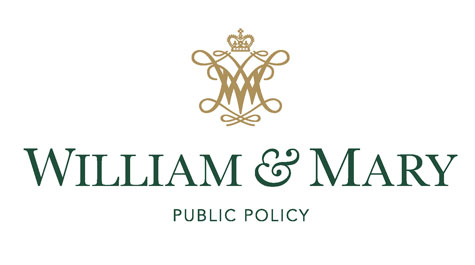 Stafford, also a professor of economics, public policy and law, said the department was looking for ways to make the program more robust, vibrant and relevant without losing "that William & Mary feel" – alluding to small class size and level of faculty/student interaction. She noted that the Public Policy Program is currently one of the smallest of the significant graduate public policy programs. It's a status they hope to change, she said.
"I think we've found the right mix," Stafford said.
While she noted the goal was to double the overall size of the program – from 22 to 45 students – Stafford said the change in the program wasn't just about the numbers.
"We are really excited about this expansion – to expand not just the number of students but also the focus of concentrations," Stafford said.
The Public Policy Program includes faculty from the government and economics departments as well as the W&M Law School. Students seeking a master's degree in public policy commit to a two-year, full-time residential program. That structure will remain, Stafford said. The expanded program will include collaborations with other departments and programs.
"We are looking forward to new collaboration across campus. We have a wealth of resources to leverage, like AidData that is doing cutting-edge research with development data and transparency," she noted.
The Public Policy Program at William & Mary has real strengths that make it a natural partner for AidData, said Mike Tierney, lab director for the AidData Center for Development Policy.
"Our work at AidData has become increasingly policy relevant over the years, so this new partnership with the public policy program is a perfect fit," he added. "AidData will offer numerous research and internship opportunities to prospective students and, as important I think, this program will help William & Mary attract and retain top notch faculty."
These collaborations will be facilitated by the program's new home in Tyler Hall where the government, economics and international relations departments will all be housed by the fall of 2016.
"We will be much more integrated in the new space," Stafford added.
The concept behind the core requirements will remain the same, she noted, adding that the new curriculum will offer two tracks or concentrations and will include the development of new courses and electives.
New course offerings will include more topic-specific classes like The Politics of Economic Development as well as skills-specific courses like Applied Program Evaluation Methods and Geo-Spatial Analysis, Stafford said.
The program expansion will include the addition of two new, tenure-track faculty positions and one non-tenure eligible position. For fall 2016, this will include one economics professor and one lecturer in public policy. In 2017, a new government professor will be hired.
Deadline for applications to the graduate program for the fall 2016 term is Feb. 15, 2016.