William & Mary launches historical campus walking tour
William & Mary has launched a new campus walking tour that allows guests to explore the people, places and events in the university's history. Developed by William & Mary's Swem Library, TribeTrek is a free mobile app that puts the history of the nation's second-oldest institution of higher learning in the palm of your hands.
The app, which can be downloaded for smart phones and tablets at the App Store or Google Play, shares the history of campus buildings, sculptures and other sites through photographs from the library's archives. There are 74 sites currently included on the tour, with more to come, ranging from the Wren Building and the Sunken Garden to the Campus Center and Zable Stadium.
"We tried to include a good mix of academic buildings, student life, athletics," said Steven Bookman, university archives specialist and creator of TribeTrek, "It's a fun way for people to see what the campus looked like in the past, but also to learn about William & Mary's traditions and history."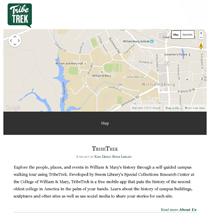 Each site includes a brief story about the structure, sharing the history of its construction, its role in campus traditions and the people behind the names of buildings.
"William & Mary has such a rich history – 300 years of it," said Bookman. "Wars have been fought here, buildings have burned down, presidents have studied here. The campus is continually changing, and you can see that reflected in the stories and photographs included in the tour."
Bookman has wanted to create a campus walking tour for quite a while. Working in Swem's Special Collections Research Center, he knew the library held an abundant amount of historical information about the campus, and wanted to find a way to share that history with the public.
"The information was already there; we just had to find a way to share it," he said. "The walking tour gives us the opportunity to educate people on the university's history, while bringing awareness to the library's archives and collections."
After he heard that North Carolina State University had developed a walking tour app for their own campus, he decided to see if it was possible to replicate their efforts here at William & Mary.
To accomplish his project, he applied for a Swem Library innovation grant, a new grant program created to encourage innovative ideas and creative solutions that support the library's mission to enhance teaching and research at the university. His proposal was one of three projects selected to receive an innovation grant.
"Steve submitted a clear proposal that explained the full scope of the project and how it met our goal of fostering innovation in support of our strategic plan," said Lisa Nickel, associate dean of research and public services. "It was a project with high impact, and from Steve's proposal, the sustainability of the project was manageable."
Bookman was awarded a $7,000 grant, and quickly went to work researching possible mobile app systems. He found a product called Curatescape that would help him make his vision a reality.
"Curatescape allowed us to build in some really great features like a GPS that tells you where you are and what sites are closest to you. You can also share on social media platforms such as Facebook and Twitter. The app's web presence even lets you leave comments so that you can share your own memories of campus," Bookman said.
Bookman hopes to add more sites to the app in the near future and is looking forward to receiving feedback about the tour.
For more information on TribeTrek, visit
tribetrek.wm.edu
.