Talk explores women's role during World War I
William & Mary's commemoration of the 100th anniversary of World War I continues with a lecture by Susan Grayzel, professor of history and director of the Sarah Isom Center for Women and Gender Studies at the University of Mississippi. She will present "Home and Front: Women and the First World War" on Friday, April 10 at the College's Swem Library.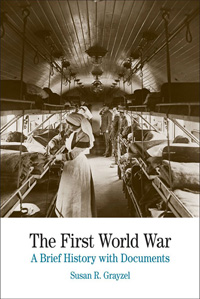 "I'm honored to be coming to William & Mary to talk about women and the First World War," Grayzel said. "One hundred years after the start of this conflict, we are still learning just how pivotal this event was for shaping our world, and the complicated and varied experiences of women help shed further light on this."
Grayzel is a noted historian and author of Women's Identities at War: Gender, Motherhood, and Politics in Britain and France during the First World War (1999); Women and the First World War (2002); The First World War: A Brief History with Documents (2012); and At Home and Under Fire: Air Raids and Culture in Britain from the Great War to the Blitz (2012).  Her current research focuses on state efforts to protect the civilian body from aero-chemical warfare against civilians in Europe from the Hague Conventions (1899) through World War II, with an emphasis on imperial Britain and France.
"Susan is one of the new, young historians studying World War I, specifically the role of women during the war. Her work has added fresh new insights into understanding women and war," said Jay Gaidmore, director of special collections at Swem Library.
The First World War Centenary is a global commemoration of the 100th anniversary of World War I, which started in 2014 with commemorations of the outbreak of the war and will continue until 2018. The College has marked the centennial with a number of events and lectures over the past year.
The event will be held from 4:30-6:30 p.m. in Swem Library's Ford Classroom, ground floor. A reception and book signing will follow the lecture. It is free and open to the public. Parking is available in the lots behind the library and in the parking garage on Ukrop Way. Evening parking passes are available for $2.50 at the Parking Services Offices, located next to the parking garage.  
Attendees are asked to RSVP to swemrsvp@wm.edu.