Reimagining a ruin: W&M alumni lead preservation effort
For the last 10 years, Sarah Dillard Pope '90 has made it her life's work to save a national treasure – the Menokin house in Warsaw, Virginia. Built more than two centuries ago as the home of Declaration of Independence signer Francis Lightfoot Lee, Menokin now lies in ruins.
Looking beyond the remains of this historic mansion, Pope has a vision to transform the house and 500-acre plantation into an educational and environmental experience like no other.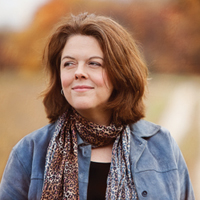 As the executive director of the Menokin Foundation, a non-profit organization dedicated to preserving Menokin, Pope is leading a project never before attempted in historic preservation: the use of structural glass to recreate an 18th-century house as it once stood while protecting what remains of it today.
"The current condition of Menokin is one part of its long story, a story that continues to evolve and needs to be told," Pope said. "The marriage of 21st-century materials and technology with the 18th-century fabric will allow us to do that."
The foundation has partnered with William & Mary's Swem Library to help share that story through a photography exhibit in the library's gallery.
Pope's involvement with Menokin reaches back much further than the past decade. She grew up near Menokin, and her parents taught her early on of its significance. When she was approached about the foundation director position in 2005, she jumped at the chance to play a part in saving this National Historic Landmark.
"It was, and is, a fascinating challenge with enormous opportunity. I could come back to where I grew up, help my community and work on a cutting-edge preservation project," she said.
Joining Pope in her effort to restore Menokin is Leslie Rennolds '83, assistant director of the Menokin Foundation. Rennolds manages marketing for the foundation, applying her 20+ years of advertising experience to her current role.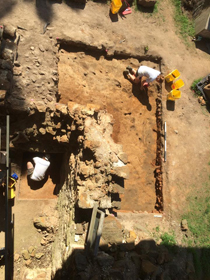 "I was instantly drawn into the unique and daring concept of the Glass House. It is so visually evocative that it was love at first sight," Rennolds said. "I want to share every amazing and beautiful piece of it with the world."
Pope and Rennolds have tapped into their William & Mary network to recruit others to help carry out the vision for Menokin. The project's consulting archaeology team is led by W&M faculty member David Brown '96, Ph.D. '14, and Thane Harpole '96, co-directors of DATA Investigations and the Fairfield Foundation in Gloucester. Anna Hayden '09, a member of the DATA Investigations team, is using her training to examine the builder's trench at the north wall of the house.
Other William & Mary alumni involved include Menokin Foundation Board Vice President Tayloe Negus, MBA '95 and past board members Russell Brown '80 and Elizabeth Crowther, Ed.S. '91, Ed.D. '94, as well as summer interns Katherine Ligon Brooks '11 and Hannah Rennolds '18.
"There is certainly a close comradery among all of us and that makes a challenging project fun and even that more rewarding," Pope said.
Support for the project reaches far beyond William & Mary, and it's the energy and expertise of the entire team, Rennolds says, that is shaping the future of historic preservation.
The exhibit, on display through Oct. 6, presents a journey through Menokin's history with photographs taken by Frances Benjamin Johnston in 1930 and by Hullihen Williams Moore in 2012-2014.
"We're happy to host the exhibit here at Swem. It spotlights an important project that adds to our understanding of 18th-century life in the Tidewater area," said Jay Gaidmore, director of Swem Library's Special Collections Research Center. 
The library joins the Menokin Foundation in celebrating the exhibit with a number of special events:
Archaeology at Menokin
Friday, Aug. 7, 5-7 p.m.
Speakers: Dr. David Brown and Thane Harpole
Swem Library Botetourt Theatre & Gallery, ground floor
Reception to follow lecture; parking available behind library
RSVP to Christina Markish at cmarkish@menokin.org
A New Vision: The Menokin Glass House
Friday, Sept. 18, 5-7 p.m.
Speaker: Sarah Dillard Pope with special guest Hullihen Williams Moore
Swem Library Botetourt Theatre & Gallery, ground floor
Reception to follow lecture; parking available behind library
RSVP to Christina Markish at cmarkish@menokin.org
The Menokin Project Exhibit Open House (W&M Family Weekend)
Friday, Sept. 25, 3-5 p.m.
Swem Library Botetourt Gallery, ground floor
All events are free and open to the public. For more information on the exhibit, visit swem.wm.edu/exhibits.