Psaki '00 named White House communications director
William & Mary alumna Jen Psaki '00 has been selected as the next White House communications director, several national news outlets reported Thursday.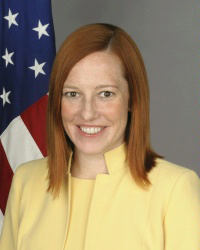 Psaki is currently the spokesperson for the Department of State and will assume her new role April 1, replacing Jennifer Palmieri.
"I fully trust Jen -- and I am thrilled she's agreed to come back to the White House as communications director," President Barack Obama said in a statement, as reported by ABC News.
Psaki has worked with Obama since his first presidential campaign, serving as his traveling press secretary. She later served as deputy press secretary and deputy communications director for the White House before becoming senior vice president and managing director of the public relations firm Global Strategy Group. Psaki again worked as traveling press secretary and senior communications aide for Obama's 2012 re-election campaign, and, the following year, she assumed her current role with the State Department. That same year, Psaki was listed as one of the "25 Most Influential Washington Women Under 35" by the National Journal.
Psaki graduated from William & Mary with a Bachelor of Arts degree in English. In 2012, when Obama visited Williamsburg to prep for a debate, Psaki, a former campus tour guide, gave Politico 10 tips and facts about Williamsburg, including some about her alma mater.