President Obama nominates W&M alumnus as under secretary for political affairs
William & Mary alumnus Thomas A. Shannon '80 has been nominated by President Barack Obama for the position of under secretary for political affairs for the U.S. Department of State, the White House announced today. Shannon currently serves as counselor of the Department of State.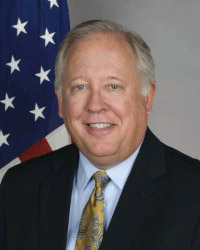 "As secretary of state, I have benefitted immensely from the broad experience, sound judgment, and good instincts of Ambassador Tom Shannon," said Secretary of State John Kerry. "Now with President Obama's nomination of Tom to serve as the State Department's next under secretary for political affairs, I look forward to working with him in a new capacity. The United States has major priorities to pursue in every corner of the globe, and I will be counting on Tom for his advice and for the full exercise of his diplomatic skills to advance American interests and values."
Shannon has had a long career with the Foreign Service and has held his current post since 2013. Some of his other recent positions include senior advisor to the secretary, U.S. ambassador to Brazil and acting under secretary for political affairs, assistant secretary of state for Western hemisphere affairs, special assistant to the president and senior director for Western hemisphere affairs on the staff of the National Security Council. 
"Tom's remarkable career in the Foreign Service is well known, as is his profound commitment to our mission at the State Department," said Kerry. "… He has been deeply involved in every aspect of our foreign policy – not only in Latin America, but also in the Middle East, Sub-Saharan Africa, Southeast Asia and beyond – and I am confident his biggest accomplishments are still ahead of him. When he becomes the 14th Foreign Service Officer in history to rise to the level of Under Secretary of Political Affairs, I know he'll continue to distinguish himself as one of the very best diplomats our nation has seen."
Shannon received his undergraduate degree in government and philosophy from William & Mary and a master's and doctorate from Oxford University.
He will succeed Wendy Sherman in the role of under secretary of state; her last day will be Oct. 2.
"It's going to be incredibly tough to see Wendy go, but I could hope for no better replacement than Tom Shannon," said Kerry.