More than 6,000 donors give back during One Tribe One Day
For the second consecutive year, William & Mary supporters from around the world made One Tribe One Day a record-breaking day for philanthropy at the university. More people gave during the Tuesday, April 21 event than on any other single day in William & Mary's history.
More than 6,000 William & Mary students, alumni, parents, faculty, staff and friends made gifts to the university totaling more than $1.3 million during the 24-hour challenge. The number of donors contributing to William & Mary during One Tribe One Day this year dwarfed the university's previous one-day record of more than 1,700 donors, which was set during last year's event.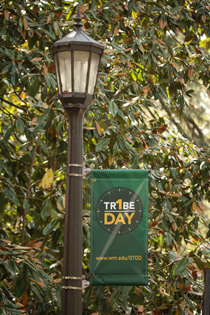 "One Tribe One Day was a howling success. It far exceeded even the most robust expectations," said William & Mary President Taylor Reveley. "The level of loyalty and support seen on OTOD bodes very well indeed for William & Mary."
Gifts in support of One Tribe One Day began rolling in as the clock struck midnight. Megan Beth Lott '82 was among the first to make a gift in the early morning hours. She spent the next two hours reaching out to more than 65 classmates and friends via email, text, Facebook and Twitter asking them to do the same. 
"I got all of that done, and then I took a nap and went to work," Lott said. "I've always tried to give something back to William & Mary. I'm very grateful for the education and the experience that I had there, and I've tried to stay actively involved ever since I graduated."
Although she has remained engaged with the university through the years, Lott has another reason to support William & Mary this year: her nephew, Matt Cohen '18, is a Monroe Scholar who is finishing his freshman year.
"I'm very grateful that I've kept my hand in at William & Mary because I want to make sure that he has as wonderful and rewarding of an experience as I had," Lott said. "I will continue to give back and then even after he graduates in a few years, I will continue to give because I'm going to want his children to potentially benefit. I tend to look at things for the long term."
William & Mary alumni, parents and friends celebrated One Tribe One Day at dedicated events in cities around the globe. On campus, student donors celebrated the day at the One Tribe One Day Carnival, which featured a petting zoo in the Sunken Garden, and the Senior Class Gift Committee honored its donors with a barbecue at the Alumni House.
Gifts and progress toward the goal of 2,100 donors were tracked live on the Web. People in all 50 states and in several countries contributed to the effort. The goal was reached at about 2:30 p.m. in Williamsburg, and the momentum continued into the evening hours.
The record-breaking success of One Tribe One Day shows that efforts to build a culture of engagement and philanthropy at William & Mary are working, according to Vice President for University Advancement Matthew T. Lambert '99.
"One Tribe One Day galvanized the entire William & Mary community," he said. "It was wonderful to watch the totals climb throughout the day, to experience the energy and excitement on campus and to see all of the alumni and friends who supported the effort from afar by posting on social media and attending events."   
Elisabeth Bloxam '15, a French and global studies double major who gave to Swem Library, said she was not surprised by the strong show of support from current students, alumni and friends.
"At William & Mary, the default is to be excited about the College and to want to give back, whether it is financially or through service," she said. "It's not really surprising that students are so eager to give back — especially when there is a petting zoo involved."
Although William & Mary is a public university, the state provides only about 13 percent of the operating budget. Private gifts support a range of initiatives across the university — from scholarships to student-faculty research to Tribe Athletics and facilities.
Financial aid and scholarships allowed economics major Omar Kamara '15 to attend William & Mary. He said he gave to help others have the same experience.
Heidi Crockett '16 echoed Kamara's sentiments.       
"I'm on full scholarship here, so I appreciate the support and I know that the money is going to something good," she said. "I also like that when we donate to One Tribe One Day, we have a say where the money goes."
Kai Martin '15, a marketing and economics double major, said scholarship support helped him study abroad in Potsdam, Germany. At the Senior Class Gift barbecue, he said he values William & Mary's high educational standards and the strong sense of community. He also had another reason to give back.
"My brother is coming to William & Mary next year, so it's kind of setting a precedent and paying it forward for the next class," Martin said.
Lott said she hopes that One Tribe One Day will encourage more alumni to stay engaged with the university.
"If William & Mary is going to continue to be top-flight, the alumni have to commit and engage and stay involved and give back," she said.