Golden Globe winner Jeffrey Tambor coming to W&M
Golden Globe Award-winning actor Jeffrey Tambor -- known for his roles on such film and TV hits as Arrested Development, The Hangover and Transparent -- will speak at William & Mary March 31.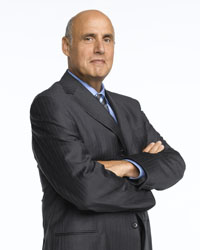 "Performing Your Life: An Evening with Jeffrey Tambor" will begin at 7 p.m. in Phi Beta Kappa Hall. Tickets, which may be purchased at the W&M Box Office or at the door, are free for faculty, staff and students with valid W&M ID and $10 for the general public. Ticketholders must claim their seats 10 minutes before the beginning of the show, or their seats may be sold to others. The event is sponsored by Alma Mater Productions with generous support from the Janet and Peter Atwater Lecture Endowment.
According to an online description of "Performing Your Life," the program "motivates viewers to discover the artists within themselves."
"Tambor's empowering lessons are catalysts for change, promoting introspection amongst audience members while they enjoy an event that feels more like an evening at the theatre, rather than just a keynote," the description says.
Tambor has had a long career in film, television and theatre, and is well-known for roles in such productions as The Larry Sanders Show, Arrested Development, The Hangover and Meet Joe Black. Earlier this year, he won the 2015 Golden Globe for Best Actor in a Comedy Series for his role on the Amazon Prime show Transparent.
Alma Mater Productions is the student programming board at William & Mary. Each spring, AMP seeks to bring a well-known speaker to campus.