Forbes names W&M a 'top college'
William & Mary has once again been ranked among the top colleges in the nation, according to a list released by Forbes today.
The university is third among state schools in the magazine's eighth annual ranking of "America's Top Colleges." Looking at all public institutions on the list – including military academies – William & Mary is sixth. Overall, William & Mary ranked 39th among both public and private colleges, up from 41st last year.
Forbes partnered with the Center for College Affordability and Productivity to rank 650 schools based on several factors, including student satisfaction, post-graduate success, student debt, graduation rate, academic success.
"The Forbes list of 650 schools distinguishes itself from competitors by our belief in 'output' over 'input,'" according to an article on the Forbes website. "We're not all that interested in what gets a student into college, like our peers who focus heavily on selectivity metrics such as high school class rank, SAT scores and the like. Our sights are set directly on ROI: What are students getting out of college?"
Topping this year's overall list of both public and private universities was Pomona College, followed by Williams College and Stanford University. Among public institutions on the list, excluding military academies, the University of California, Berkeley (35th overall) took the top spot followed by the University of Virginia (36th) and William & Mary.
William & Mary was also well represented in the second annual Forbes #MyTopCollege social media contest, in which people were asked to show their school spirit on Twitter and Instagram.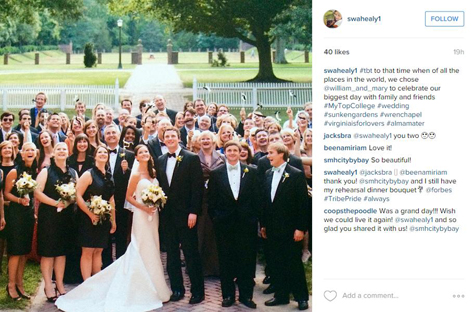 The Tribe
responded
in force, resulting in William & Mary being
mentioned
in a Forbes article on the contest. A
photo
of an on-campus wedding by Instagram user @swahealy1 was also selected to be included among the magazine's picks for favorite #MyTopCollege photos.