FACES highlights the stories of Asian Americans at W&M
As the school year ends, so, too, does FACES, the Asian American Student Initiative's social media campaign to promote and provide a platform for sharing the many stories and experiences of Asian American students at William & Mary.
Inspired heavily by the work of Humans of New York and Humans of William & Mary, FACES used Facebook throughout April 2014 and April 2015 to feature the photos and stories of Asian American students at the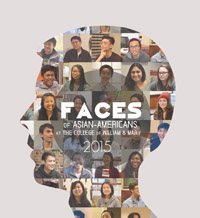 university. According to the Facebook page, the goal of the project was twofold: "to get students to start thinking about their own identity through Asian Americans' experiences with race and to also spread awareness of these issues to the larger William & Mary community."
Founded in spring 2014 as a grassroots organization by Paul Atienza '15, Max Nikoolkan '14 and Priscilla Lin '14, the Asian American Student Initiative (AASI) focuses on not only providing awareness of Asian American identity but advocating for educational and community programming as well.
"This really had its beginnings when I met Max Nikoolkan '14, my [teaching assistant] for THEA 340: Acting Asian American taught by Professor Francis Tanglao-Aguas during his office hours," said Atienza. "He had an idea about starting an organization like AASI but wasn't sure if its membership would be sustainable. I remember telling him that it would definitely grow; we just need to get out there."
Since its inception a year ago, AASI has grown from three to 20 members and, as of last month, has become an officially recognized student organization at the university. With its continuing growth comes the opportunity for the organization as a whole to further its goals of serving as a space to promote and discuss Asian American awareness by giving students a voice and a safe environment to highlight social as well as academic issues.
"AASI's goals are many, but the core is simple: We are working towards creating an Asian American and Pacific Islander studies major at William & Mary as well as getting a tenure-track professor in the field," said Jin Ho '16. "These are long-term goals, but the small steps we are taking right now, and have taken, have been extremely successful. That being said, our first and foremost job is to create a community where people really care, love and understand each other. It is students that have the potential to make change, and it is our goal to foster an environment where that potential can manifest itself into full capacity."
Currently, Asian American and Pacific Islander studies is a self-designed interdisciplinary major. Four students have graduated as Asian-American studies majors since 2009, and, with the help of faculty such as Tanglao-Aguas, the number current majors has increased to nine. Through faculty outreach, the number of courses for Asian American studies has increased, as well.
FACES, began as a final project for AASI co-founders Lin and Atienza for their class, THEA 340: Acting Asian American, last spring.
"We believed Asian Americans aren't really well represented through the stereotypes that the media portrays people of Asian descent," said Atienza. "I, personally, decided to continue the project this year, 2015, because I felt like more can be done with the project."
Now in its second year, FACES has received immense support from not only the William & Mary community but those outside of it as well, according to Atienza and Ho.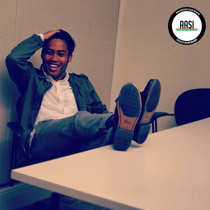 "The reception to the project this year has been immense," said Atienza. "I've been getting messages from people wanting to interviewed and from those outside of William & Mary, other schools and online, curious of the process of the whole project. There were a lot more reactions to one particular post, Hiba Vohra '16, who talked about her experience as a South Asian American and prompted a conversation on South Asian identity. Our posts reach have skyrocketed on the AASI Facebook page from last year."
With the support of students including Chris Cordova '15, Caroline Goh '15, Michelle Zhu '15 and Lauren Su '15, Atienza was able to interview over 50 students for the current installment of FACES, twice the amount of people from last year.
"FACES gives the opportunity for Asian American students to either begin to think about for underclassmen, or to synthesize for upperclassmen their thoughts on their identity and their experiences as an Asian American," said Atienza. "Every time I hear from a participant [or] someone seeing the project that they really liked the project and that it got them thinking (about their identity and who they are), it makes the work that I and my fellow FACES team in AASI do very worth it."
Overall, both Ho and Atienza believe that AASI through its initiatives like FACES will be able to further promote the goal of creating an inclusive community in which Asian American identity is celebrated on campus.
"We want the William & Mary community to realize that the Asian American community needs to be further represented on campus not only through cultural organizations," said Ho, "because a large portion of U.S. history and today's society is constructed by Asian Americans. It's time for marginalized stories to be placed on the center."
AASI encourages all members of the William & Mary community to learn more by attending AASI meetings, liking its Facebook page or checking out last year's FACES documentary by Atienza and Lin.