A fan's guide to the CAA basketball tournament
Update from Baltimore:
William & Mary defeated Elon, 72-59, Saturday to advance to the semifinals of the CAA tournament. The hot-shooting Tribe hit 51% of their shots in a first half in which they took a 36-26 lead. They finished the game having shot 52% from the field. W&M led by as many as 18 points in the second half before coasting to the finish line.
Senior Marcus Thornton, the CAA Player of the Year, netted 17 points, Omar Prewitt scored 16 and Daniel Dixon supplied 12 points, all of which came off four 3-pointers. Junior Terry Tarpey chipped in eight points, nine rebounds and five assists.
On Sunday, W&M will play the winner of today's James Madison-Hofstra game.
                                          * * * * 
William & Mary men's basketball coach Tony Shaver is preparing his team for this weekend's Colonial Athletic Association tournament at Baltimore's Royal Farms Arena, employing two new tactics.
Following last Saturday's disappointing loss to Drexel, he gave the Tribe two consecutive days off. Then he issued them a challenge he had heretofore avoided.
"They probably haven't had [two consecutive days off] since October," Shaver said Monday night. "What struck me is that every one of them was in the gym [Monday] on their own, shooting around. These guys love to play, and that's a good sign."
The challenge Shaver issued was to follow the team's first-ever CAA regular-season championship by becoming the first W&M team to win the conference tournament and earn a berth in the NCAA tournament.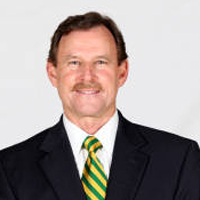 As every Tribe fan knows, W&M is one of only five Division I schools never to play in the NCAA tournament. The others are Northwestern, The Citadel, Army and St. Francis of New York.
When asked about it in recent years, Shaver has steadfastly – and correctly – maintained that the shortfalls of previous teams should not be a burden carried by his squads. In the last seven years, the Tribe has advanced to the conference title game three times.
"Is this the year?" is among the most frequently asked questions around campus in March.
"We've challenged them," Shaver said. "In the past I've shielded them. Now, I've told them 'Why not?' There may be future William & Mary teams that will win more basketball games, but only one team can become the first to make the NCAAs. Why shouldn't that be us?"
To start through the bracket, the Tribe will have to get past the winner of Friday's game between Elon and Towson. Shaver doesn't think that Saturday noontime match will be easy.
"I've always maintained that the first game of the tournament is the toughest," he said. "It always takes tremendous effort. There's a lot of pressure, and we're going to have to deal with it.
"We've had two tough, physical games with Towson, but we won both, so we feel pretty good about that. Elon might be the hottest team in the league. They beat Northeastern, and they did us a favor the other night by beating UNC-Wilmington."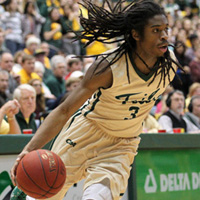 Although W&M finished the regular season with a 12-6 conference mark, tied with UNC-Wilmington, Northeastern and James Madison, Elon's victory Saturday enabled the Tribe to claim the conference regular-season crown because they held the advantage in all tie-breaking scenarios.
Delaware and College of Charleston round out the field.
Having received the help they needed, Shaver said the Tribe must look inward if they are to take the title.
"We need to take care of ourselves," he said. "When we do, we're good. When we don't have our minds in he right focus, we've been beaten a couple of times.
"We've got to be better defensively than we have been lately, and we've got to be better balanced on offense. Maybe it's because of (Marcus Thornton's pursuit of the school's all-time scoring record), but we've relied a little more on Marcus than we should. We need for more people to be involved in scoring."
5 games that defined a season
Jan. 4, 2015: W&M 75, College of Charleston 45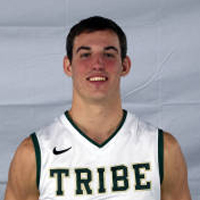 Just four days after losing badly at nationally ranked North Carolina, the Tribe scored its most lopsided CAA victory in the program's 30 years in the league. W&M scored the game's first eight points and shot 61.5 percent in the first half on the way to a 13-point halftime advantage. The Green and Gold controlled the glass, 43-24, in rolling the Cougars. Sophomore Omar Prewitt broke out of a slump with 18 points on 8-of-12 shooting to go with six rebounds, three assists and two steals.
Jan. 10, 2015: W&M 81, James Madison 73
Junior Terry Tarpey recorded the first triple-double in program history in leading the Tribe over the Dukes at Kaplan Arena. Tarpey finished with 18 points, 11 rebounds and a career-best 10 assists to become the first player in the 110-year history of W&M basketball to record a triple-double.
Jan. 15, 2015: W&M 76, UNC-Wilmington 72
The Tribe erased a 22-point deficit and rallied for a historic victory over UNC-W at Kaplan Arena. The Tribe trailed by 22 points with a minute remaining in the opening half, but came back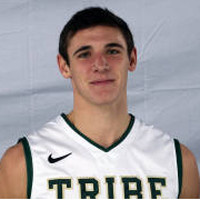 behind a 52-point second half. It marked the biggest comeback in W&M history and just the 29th time in NCAA history that a team rallied for victory after trailing by 22 or more points. Marcus Thornton scored 16 of his team-high 19 points in the second half. He was 8-of-8 from the free throw line and knocked down three 3-pointers to go along with three assists. Sophomore Omar Prewitt tallied 14 of his 16 points in the second period, hitting 6-of-9 shots from the field and 2-of-3 from 3-point range. Junior Terry Tarpey did a little of everything with 14 points, eight rebounds and five assists.
Feb. 8, 2015: W&M 56, UNC-Wilmington 53
Tom Schalk's offensive rebound and basket gave the Tribe the lead for good with just 1:39 left in at gutty victory at UNC-W before a packed house at Trask Coliseum. The Tribe turned in a gritty defensive effort, limiting UNC-W to just 28.8 percent from the field to overcome an off night shooting from 3-point range and a bevy of turnovers. The senior duo of guard Marcus Thornton and Schalk led the way for the Green and Gold, scoring 31 of the Tribe's 56 points.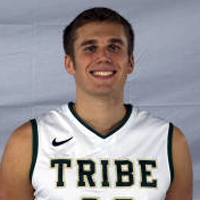 Feb. 22, 2015: W&M 80, Hofstra 78
After one of the longest and latest travel days of the year, the Tribe gutted out a road victory at Hofstra. Senior guard Marcus Thornton knocked down a pair of clutch free throws with 3.7 seconds remaining to give W&M the victory. The Tribe endured a 14-hour travel day the day before, which included an eight-hour bus ride after its flight out of Norfolk was cancelled, and got into Long Island at 3 a.m.
If you're going to Baltimore
Tribe Gathering
Saturday's pregame breakfast is SOLD OUT! Tribe fans are invited to a postgame celebration at the Alewife Baltimore, 21 N Eutaw St., sponsored by the William & Mary Maryland Alumni Chapter. Gather after the game with specials on appetizers and drinks. Click here to RSVP.
Tickets
Fans can purchase tickets online at TicketMaster.com or by calling 1-800-745-3000. Click HERE for the Ticket Master Web site. Ticket books that includes all nine games and five sessions are available for as low as $80, and single-session tickets are on sale for $20. Click HERE for CAA Championship ticket information. Make note: The Tribe sections in Royal Farms Arena are sections 210 and 212.
FREE tickets for W&M students
The first 200 W&M students will be admitted for free with student ID to all CAA men's basketball tournament games. Show your W&M ID at the Tribe Table in the main lobby before every Tribe game. The first 166 students will be admitted in the section behind the basket closest to the Tribe team bench. CAA students can also purchase a single-session ticket for $7 with valid CAA school ID on the day of game only at the Baltimore Arena Box Office. No advance sales.
Social Media
Fans can follow along and engage in the conversation about the 2015 CAA men's basketball championship through a number of social media avenues. The official hashtag for Tribe basketball during the CAA Tournament is #MarchOnTribe.
If you can't make it
Watch Parties
Tribe fans across the country are invited to gather for CAA Game Watches, sponsored by local alumni chapters. Click on your town to view details and to RSVP for these events.
Saturday, March 7:
Sunday, March 8:
Monday, March 9: Complete list

Television
Every game of the 2015 CAA championship will be broadcast through CAA TV and its regional and national affiliates with NBC and Comcast Sports. All four quarterfinal games will be televised on Comcast SportsNet. Both the noon and 2:30 p.m., quarterfinals will be televised on Comcast SportsNet and regional affliates.
Both CAAs semifinals on Sunday, March 8, will be televised nationally on the NBC Sports Network, with the first semifinal at 2:30 p.m. and the second to follow at 5 p.m. The 2015 CAA championship will be broadcast nationally on Monday, March 9, on the NBC Sports Network. Online, the broadcasts will be available on NBC Sports LiveExtra.
CAA.TV
CAA.TV will simulcast all regional broadcasts for out-of-market views. The simulcast is subject to blackout restrictions. CAA.TV will carry every postgame press conference as well as the championship game celebration/press conferences LIVE for free in HD.
Audio
Fans can follow W&M on the Tribe Radio Network with Jay Colley, Bill McDonald and Charlie Woollum on the call. The Tide 92.3 FM in Williamsburg is the flagship station of the Tribe Radio Network. The broadcast will also be available online at TribeAthletics.com. Monday's championship game will also be broadcast nationally on the Westwood One radio network.