W&M welcomes new director of internal audit
William & Mary has welcomed a new director of internal audit, Kent Erdahl '83.
Erdahl is responsible for developing and implementing a comprehensive audit program that promotes efficient and effective operations at William & Mary, W&M's Virginia Institute of Marine Science and Richard Bland College.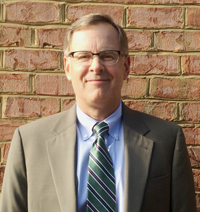 "I am so pleased that Kent Erdahl has returned to his alma mater as the director of internal audit," said Judge John Charles Thomas, chair of the Committee on Audit & Compliance for the W&M Board of Visitors. "He has had a distinguished career in the private sector and brings to William & Mary wide-ranging knowledge, experience and insights. That coupled with his deep love for his alma mater makes him uniquely qualified to take on this important position at this ancient and venerable institution."
Among Erdahl's duties are developing an annual audit plan, overseeing university auditors and making recommendations to university leadership on ways to improve the university's governance, risk management and controls.
While Erdahl will make recommendations to William & Mary leadership, he reports directly to the Board of Visitors' Committee on Audit & Compliance.
"I view internal audit as being a business partner. That's how I see our role," Erdahl said. "My approach, and I believe the approach of my predecessor, is that internal audit is not the police; we're not out to get anyone or a department. We're all on the same team, working toward the same goals and objectives.
"Internal audit brings an independent perspective. A fresh set of eyes on a process can add a different perspective and can offer value-added solutions. That's what we do."
Erdahl graduated from William & Mary in 1983 with a bachelor's degree in business administration with a concentration in accounting. He came most recently from St. Joe Company in Jacksonville, Florida, where for almost 10 years he was vice president of internal audit and risk management. He has also held senior audit management positions with MeadWestvaco Corp., Fort James Corp., Crown Vantage Inc. and Ernst & Young LLP, all in Richmond, although work with MeadWestvaco also took him to Dayton, Ohio.
"The search committee was pleased that Kent decided to return to the College as its internal audit director," said Sam Jones, vice president for finance. "His internal audit experience and leadership skills make him a perfect fit for the College."
Erdahl began in his new role in July, succeeding Michael Stump, who led the department for 18 years and is now teaching at the Mason School of Business.
"I'm glad to be back in Williamsburg and look forward to enjoying four seasons, as opposed to Florida which has only one," Erdahl said. "The William & Mary community has been very welcoming and all seem great to work with. Just being part of the College was a big draw for me."