W&M named a top producer of Peace Corps volunteers
William & Mary continues to be a top producer of Peace Corps volunteers, according to report released today.
The Peace Corps ranks the top volunteer-producing colleges and universities annually according to the size of the student body. With 19 alumni currently serving as volunteers, William & Mary ranks 22nd among medium schools with 5,000-10,000 undergraduates.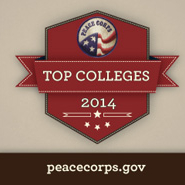 With 65 current volunteers, Western Washington University tops the list of medium schools while the University of Madison-Wisconsin and Gonzaga University are number one among large and small schools, respectively.
Approximately 600 William & Mary alumni have volunteered with the Peace Corps since its establishment in 1961. Last year, William & Mary was ranked ninth among medium schools with 30 alumni serving as volunteers.
Katherine Gehron '12 has been serving as an early childhood education volunteer in Burkina Faso, working with teachers and helping to establish a preschool for 150 children.
"Peace Corps is a wonderful way to learn more about who you are, what you want to do with your life and make a positive impact in other people's lives," said Gehron.
Students interested in more information on the Peace Corps may contact Ariel Simons, the Peace Corps recruiter for William & Mary, at (202) 692-1055 or
asimons@peacecorps.gov
.