William & Mary to honor E. Morgan Massey with Botetourt Award
William & Mary will be honoring E. Morgan Massey, chairman of Evan Energy Company and former chairman and CEO of A.T. Massey Coal Company, with the Lord Botetourt Award for his extraordinary service to the university's Virginia Institute of Marine Science (VIMS).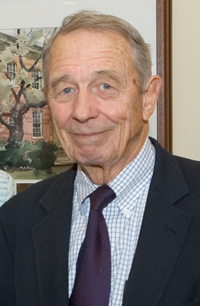 The Lord Botetourt Award is one of the university's most esteemed awards. It honors non-alumni members of the William & Mary family who embody the spirit of Norborne Berkeley, Baron de Botetourt, a colonial governor of Virginia who was appointed Rector of William & Mary in 1769. He restored vitality to the institution by supporting a much-needed renovation of the Sir Christopher Wren Building and establishing prizes for outstanding scholarship.
As a founding director and president emeritus of the VIMS Foundation, Massey has led efforts to recruit world-class marine scholars and support research to help advance the health and restoration of Chesapeake Bay. Under his leadership, the foundation has generously provided 34 VIMS students with scholarships and fellowships this year alone and bolstered programs aimed at oyster breeding and K-12 marine science education and outreach, among others.
"Morgan's leadership has been extraordinarily important," said William & Mary President Taylor Reveley. "His vision and generosity have been instrumental in VIMS' ability to educate marine science leaders."
The award will be presented Friday at the annual Matthew Fontaine Maury dinner, which celebrates the generosity of philanthropic leaders who contribute to and advance the mission of VIMS.
"Morgan has been a loyal friend and generous supporter of VIMS for more than twenty years," adds VIMS Dean and Director John Wells. "We're exceedingly grateful for his unwavering leadership, dedication, and friendship."
Former Secretary of the Army and Congressman Jack Marsh will also be recognized at the dinner with the Pathfinder of the Seas Award. The award honors individuals who have displayed an enduring commitment to the VIMS mission of research, education and advisory service in the marine environment.  Marsh has served on the VIMS Council for two decades and as secretary of the advisory board since 2002.
"We are also delighted to recognize Jack Marsh, who has made a real difference for the better as a member of the VIMS Council," Reveley said. "Jack has been a tireless advocate for the important work taking place at VIMS."