The organ stylings of Tom Marshall
Longtime William & Mary organ instructor, Thomas Marshall may be heard this coming week on the public radio program With Good Reason.
Marshall will be talking about the history of organ music, the rare 18th Century organ he regularly plays on the William & Mary campus. It's one of the oldest in the country, and he will treat listeners to a special, private recital.
The show will air in markets around the country Dec. 20-26. The program may be heard locally on Richmond's WCVE radio (88.9 FM) Saturday, Dec. 20 at 4 p.m. and Sunday, Dec. 21 at noon, and on Norfolk's WHRV (89.5 FM) at 1 p.m. Thursday, Dec. 25. Other broadcast times and stations are posted online.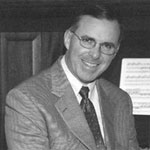 Marshall has taught music at William & Mary for more than 20 years. He teaches organ, harpsichord and piano. Marshall performs frequently with the Virginia Symphony as well as numerous baroque chamber ensembles. He has also served for more than two decades as harpsichordist for the Colonial Williamsburg Foundation.
Not only does he teach, but Marshall gives regular recitals in William & Mary's Wren Chapel. The Wren Chapel organ is among the four oldest organs in the United States. It was bought in England by Colonial Williamsburg and imported to America to reside in the ballroom of the Governor's Palace. It has been housed in the Wren Chapel for decades. The recitals, which are open to the public, are a treat for the campus community and visitors alike. In addition to recitals, the organ is used regularly for weddings and other functions.
With Good Reason may also be heard via podcast. You may subscribe to the podcast online.