Scott Nelson to deliver spring Tack Faculty Lecture on April 17
As a writer of historical non-fiction, Scott Nelson's star has been on a steady rise since 2007. As a guest on radio and television, his commentary has proven entertaining and insightful.
William & Mary's Legum Professor of History, Nelson will deliver the spring Tack Faculty Lecture on April 17 at 7 p.m. at the Kimball Theatre. The event is free and open to the public, but attendees are asked to register online.
The topic of Nelson's upcoming lecture, "The World That Panics Made," comes from his latest book, A Nation of Deadbeats: an Uncommon History of America's Financial Disasters, which was chosen by Bloomberg Business News as one of its "favorite books of 2012."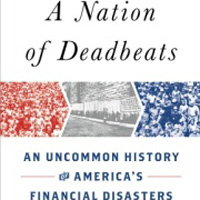 The 2008 economic meltdown was just the latest in a long line of financial crashes "caused by Americans' knack for embracing complex credit schemes to meet a ravenous hunger for capital," Nelson writes in the book.
He goes on to profile similar disasters in 1792, 1819, 1837, 1857, 1873, 1893 and 1929. All resulted, he says, in European lenders
wondering, "if Americans would honor their financial promises, or was America simply a nation of deadbeats."
In its review, the New York Journal of Books called Nelson's book "exceptionally readable. ... (Nelson) has painstakingly extracted the sensational details from the mucky ore of the history of financial crises in the U.S., welding them together ... well worth reading -- particularly as it is larded with entertaining characters and powerful citations."
The acclaim for Deadbeats follows that accorded to Nelson's Steel Drivin' Man: John Henry, the Untold Story of An American Legend. Released in 2007, the book won three major awards, including the Merle Curti Award for best book in American social history.
The Tack Faculty Lecture Series originated in spring 2012 with Biology Professor John Swaddle. He was succeeded by John Morreall of religious studies and Chuck Bailey of geology and, last fall, Debbie Steinberg of William & Mary's Virginia Institute of Marine Science.
A generous commitment by Martha '78 and Carl Tack '78 established the Tack Faculty Lecture Series at William & Mary. The commitment creates an endowment for the series and speakers, who are William & Mary faculty members and will receive stipends for their presentations.