Michael O'Connor '18 receives Edwards Scholarship
Michael R. O'Connor, a 2014 graduate of Christian Brothers Academy in Lincroft, N.J., was recently named the third recipient of William & Mary's Michael Hardy Edwards Scholarship.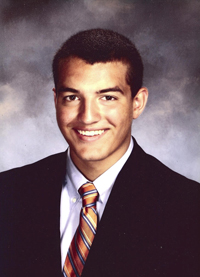 The Edwards Scholarship honors the memory of William & Mary alumnus Michael Hardy Edwards '90, a Garden City, N.Y., native who died on Sept. 11, 2001, in the attacks on the World Trade Center. The scholarship was established in 2002 by his wife, Jackie Edwards, and has been funded by family members and friends.
The scholarship, which provides $5,000 a year for four years so long as recipients remain in good academic standing, is awarded to an incoming freshman from the Greater New York area who best exemplifies the characteristics of Michael Edwards — character, academic achievement, and athletic participation in high school. Michael Edwards, 33 at the time of his death, was a successful businessman who, after graduating from William & Mary with a degree in government in 1990, joined Sandler O'Neill and Partners as a bond salesman, working his way up to managing director. He was also an accomplished athlete — a champion high school hurdler as well as an avid enthusiast of extreme sports.
O'Connor, a National Honor Society member, graduated with Academic Distinction from Christian Brothers Academy and maintained a 4.0 grade point average throughout high school. He was one of 15 students selected to be a "student scholar" to explore advanced topics and personal interests in order to conduct independent research beyond the parameters of the traditional classroom setting.
An active member of student council since his freshman year, O'Connor served as vice president for underclassmen and upperclassmen, and as school president his senior year. He was an advocate for an anti-bullying campaign and organized charity events to raise awareness and funds for causes such as cancer and autism research.
O'Connor played basketball and lacrosse for Christian Brothers Academy in addition to playing for the United Lacrosse Select U17 Elite and Select U16 teams. Additionally, he devoted time to refereeing youth flag football games and coaching youth lacrosse and basketball during the summers.
In his application, O'Connor admitted that composing his submission for the Edwards Scholarship was "daunting" compared to his college application essays because of the lasting mark Edwards had on those in his life. He noted, "We share a first name, a love for our families, our awesome dogs, our friends, sports, the outdoors, music, academics and life in general."
Unfortunately, the two also share a tragic, common thread. O'Connor's uncle, Jim Berger, was two floors below Edwards in the South Tower of the World Trade Center and perished in the attacks. O'Connor understands the fragility of life and wants to make a difference in the lives of others, the same way Michael Edwards strove to do.
O'Connor hopes to study business at William & Mary, but also wants to immerse himself in student leadership and service activities, as well as continuing to play lacrosse. He noted that many students from the New York area select schools in the Northeast, like his twin brother who is a freshman at Boston College, and that he was somewhat apprehensive about choosing William & Mary. However, when reading about Michael Edwards' "exuberance for life," he felt reassured that William & Mary was the right decision and considers it a great honor to continue Edwards' legacy.