Lemon Project's spring symposium continues to expand
Author of 'Ebony and Ivy' to speak at March 14-15 event


The William & Mary Lemon Project is preparing to host its fourth annual spring symposium, an event that continues to grow each year.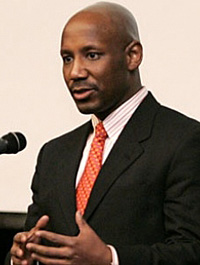 This year's symposium, to be held March 14-15, will include a poetry slam, panel discussions and a keynote address by Craig Steven Wilder, the author of Ebony and Ivy: Race, Slavery, and the Troubled History of America's Universities. Organized around the theme of "Aspiring for Change: Representations of the African American Experience," the event is free and open to the public. People interested in attending should register online.
"The symposium is continuing to expand, and we're all very excited about it," said Jody Allen, Lemon Project managing director and adjunct visiting assistant professor. "We're thrilled that historian and author, Craig Steven Wilder, will offer the keynote address and lead a discussion of his most recent book. Additionally, this is the first year that we have graduate and undergraduate students and faculty from other institutions participating as panelists alongside our own William & Mary students. Finally, a poetry slam has been added, and participants will be performing works based on the conference theme."
The symposium will begin at 6 p.m. on March 14 at Bruton Heights School in Williamsburg with a book reading and discussion with Wilder. A professor of history and head of the history faculty at MIT, Wilder explores the history of slavery at American institutions of higher education in his new book.
At 8:30 p.m. that same evening, the poetry slam will be held in Tidewater A and B rooms of William & Mary's Sadler Center.
The symposium continues at 8 a.m. on March 15 with a continental breakfast at the Mason School of Business. Wilder will present his keynote address at 9 a.m. followed by a Q&A.
At 10:30 a.m., the first set of concurrent, panel discussions will begin. The panelists and their respective topics include:
"Narratives: Making Meaning, Decoding Meaning" with Benjamin S. Flax, a student at the University of Alabama, and Carol Hill and Burnell Irby of Washington, D.C.
"Leaders in the African American Community" with Donovan Branche, a doctoral candidate at James Madison University, and Karen Ford, a professor at James Madison University
"African Americans at School" with William & Mary students Marissa Beale '14, Alexandra (Lexi) Hartley '14 and Tanisha Ingram '14
Following a noontime lunch, the second round of panel discussions will begin at 1 p.m. Those topics and panelists will include:
"Living Histories" with Mary Lamb Shelden, an assistant professor at Virginia Commonwealth University, and Brian Palmer and Erin Hollaway, community members and documentary film producers
"Anthropology/Archaeology" with William & Mary student Stephanie Krauss '15 and independent scholar Ywone Edwards-Ingram
The conference will conclude after a wrap-up discussion, scheduled to take place at 2:30 p.m. A complete conference schedule may be found online.
The Lemon Project was launched in 2009 after the William & Mary Board of Visitors passed a resolution acknowledging the university's involvement in slavery and calling for the establishment of a project to explore that history as well as William & Mary's ongoing relationship with the African-American community. The project is named after a man who was enslaved by the university in the late 18
th
century.