Haider Ala Hamoudi to serve as 2014 Kraemer Scholar-In-Residence
The Kraemer Middle East Distinguished Scholar-In-Residence program, established by a generous gift from Carole A. and Richard C. Kraemer '65, has allowed the university to welcome to campus a renowned scholar of law and governance in Islamic states and societies since 2009.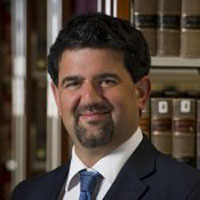 The 2014 Kraemer Scholar-In-Residence will be Haider Ala Hamoudi, associate professor of law and associate dean of research and faculty development at the University of Pittsburgh School of Law.

The yearly residence is supported by the Reves Center for International Studies and the Program in Comparative Legal Studies and Post-Conflict Peacebuilding at the William & Mary School of Law, and may last from a few days to more than a week. Scholars are invited from various geographic regions and sub-disciplines.
"We are delighted to host a scholar of the caliber of Haider Ala Hamoudi as this year's Kraemer Middle East Distinguished Scholar-in-Residence," said Christie Warren, professor of the practice of international and comparative law and the director of the Program in Comparative Legal Studies and Post-Conflict Peacebuilding. "Not only did he serve as an important advisor to the Iraqi Parliament during its constitutional drafting process; he is also the current chair of the American Association of Law Schools Islamic Law Section and is considered one of the most innovative thinkers in the field of Islamic Law today."
Hamoudi received his juris doctor from Columbia Law School in 1996, and after graduating served as a law clerk to the Honorable Constance Baker Motley in the Southern District of New York. Hamoudi worked as an associate at the law firm of Debevoise & Plimpton until 2003, when he began serving as a legal advisor to the Finance Committee of the Iraq Governing Council, and worked with the International Human Rights Law Institute at DePaul University's College of Law to improve legal education in Iraq. His work in Iraq continued in 2009 where he advised the Constitutional Review Committee of the Iraqi legislature on behalf of the US Embassy in Baghdad. The committee was responsible for developing critical amendments to the Iraq Constitution deemed necessary for Iraqi national reconciliation.
"It is truly an honor to be named the Kraemer Scholar-in-Residence for 2014," said Hamoudi. "Given both the broad lack of awareness among the American public respecting the role of Islam in governance in Middle Eastern legal systems as well as the importance of addressing that severe knowledge deficit, the Kraemers have done their community and the university a great service through the creation of such a distinguished program."
Warren notes that Hamoudi's expertise will offer a profound look into the influence of Islam in Iraq's culture and its constitution.
"His perspectives on Sunni – Shia relations are particularly insightful," said Warren. "Professor Hamoudi's public talks promise to be relevant, informative and fascinating."
Previous Kraemer Scholars have worked in various capacities with respect to Islamic law, from non-governmental organizations promoting women's rights to serving in Iraq's ministry of environment.
"I very much look forward to visiting William & Mary and engaging in in its high caliber intellectual environment," said Hamoudi. "I only hope that I can add as much to that environment as concerns my own specific areas of expertise—Islamic constitutionalism and the role of Shi'i Islam in governance questions—as the distinguished Kraemer scholars before me."
Haider Ala Hamoudi will present two public lectures as W&M's 2014 Kraemer Scholar-In-Residence: "Islam in the Iraq Constitution" (March 13, 12:50 p.m., Law School, Room 141) and "Understanding the Sunni-Shi'a Split: From Theology to Law" (March 14, 3:30 p.m., Andrews Hall, Room 101). Both lectures are free and open to the public.