Doug Morton, Marilyn Brown star as Homecoming grand marshals
When Doug Morton '62 and Marilyn Brown HON '07 met at a white elephant gift exchange, they never knew they would be leaving with a lifelong relationship that would include William & Mary.
Now the couple will lead the university's 85th Homecoming Parade, selected as grand marshals by the William & Mary Alumni Association's Board of Directors in recognition of their special bond with the institution.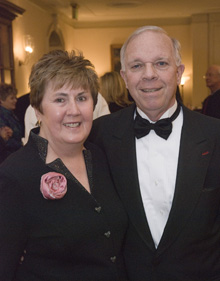 "Those of us at William & Mary are absolutely delighted that Doug and Marilyn will be the grand marshals of our 85th Homecoming Parade," said President Taylor Reveley. "They are among the most stalwart and generous members of the W&M family."
Morton, founder and owner of Morton Publishing Co., has served on the Alumni Association board of directors, the College of William & Mary Foundation, The Fund for William & Mary board, the AEF Executive Committee, the President's House Committee, the National Campaign Committee for the Campaign for the 4th Century and the Campaign for William & Mary, and his 25th Reunion gift committee. He received the Alumni Medallion in 1995.
Morton was able to spread his love for William & Mary to Brown, thanks to a canceled convention in Virginia Beach.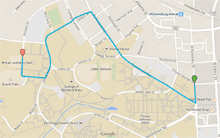 "I brought her to Williamsburg and she loved the college campus and Colonial Williamsburg," Morton said.
Brown has since served on the Swem Library Board of Directors and was made an honorary alumna by the William & Mary Alumni Association in 2007. "That is a very special honor for me," said Brown. "It never crossed my mind I would be given such an honor for serving nine years on the Swem Library Board."
Morton and Brown have long been active and generous supporters of the William & Mary community, not only serving on numerous college boards, but giving to many programs across campus. Their most recent commitment totals $2 million and supports the Kambis Kinesiology Endowment, the McCarthy Endowment for Swem Library, and expendable support for the Tribe Club, Fund for W&M, Swem Library, kinesiology and the Muscarelle Museum of Art. Over the years, Morton and Brown have made significant contributions to the College, including a $1 million contribution in 2007 to the Faculty-Student Research Initiative.
"The college education that I received has given me a successful life and I want to give back for that experience," Morton said.
Ken Kambis, a professor in W&M's kinesiology program, first met Morton and Brown 28 years ago when he began teaching at William & Mary. As he was reviewing textbooks for his wellness class, he came across one by Morton Publishing Company.
"I chose this one after reviewing eight others because Doug's text was significantly better," said Kambis, whose primary research is in altitude physiology. "As soon as I placed the order with the W&M Bookstore, Doug called me and said it had been all he could do to not call me and ask me to consider his text since he was an alumnus and his daughter was enrolled in my wellness class."
Since that time, Morton and Brown have remained close with Kambis, supporting his research at the College and opening their home to celebrate special events involving high altitude research projects in Colorado. Morton and Brown have endowed a faculty enhancement program in the Department of Kinesiology & Health Sciences and Kambis is aware of dozens of students who have worked in his laboratory and gained research experience along with co-authorship of scientific presentations at national and international meetings due to Morton and Brown's support.
"I believe that they are humble, caring people who greatly enjoy the work that they do when they see others benefit from it," Kambis said. "The College could not envision better individuals to represent it to the world. Doug and Marilyn are very bright people with hearts of gold. They are premier examples of William & Mary alumni."
Morton and Brown have also passed on their love for the College to their families. Morton's daughter, Chrissy Morton DeMier '90, is also a W&M alumna, and Marilyn's niece Veronique Barbour is a junior at W&M.
The College's annual Homecoming parade begins at the corner of Prince George Street and North Boundary Street on Friday, Oct. 17 at 4:30 p.m. Alumni, faculty, staff, students, and members of the community are expected to line the streets to view the floats and other entries.
"We are both thrilled and honored by being named grand marshals for 2014," Brown said. "We have been practicing our waves. We are excited to see the Tribe win the football game and see old friends."