College community to celebrate Sadler Center's 20th anniversary
For most members of the William & Mary community, the Sadler Center is as much a campus fixture as the Sunken Garden or the Wren Building. Most students pass through it each day, their vague awareness of its former life as the "University Center" serving only to fix the building's status deeper in William & Mary's history.
Despite its centrality to life at the university, the Sadler Center is only 20 years old — the same age as many of the students it serves each day.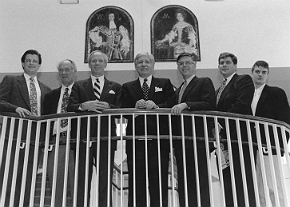 To celebrate this milestone year, the W&M community will gather on the Sadler Center Terrace on Friday, April 18 starting at 4 p.m. for ice cream and cake while listening to the Sleepwalkers play for AMP's "Fridays at 5." Beginning on April 16, Sadler Center staff will host a table in the building's lobby with information and giveaways, which will continue until the Friday celebration.
Construction on the University Center began in 1991 following a groundbreaking ceremony attended by notable figures in the William & Mary community. The architectural planning phase of the project took nearly two years and was handled by The Architects Collaborative from Cambridge, Mass.
To make room for the new structure, three lodges, an outdoor basketball court and an extension of the stadium track had to be demolished. In their place rose steel frames and brick walls, quickly giving shape to what would become one of the university's most recognizable structures. Construction on the University Center was originally expected to cost $13.5 million, but the William & Mary community was pleased to discover that the project finished around a million dollars under budget, costing only $12.5 million.
After construction finished in January 1994, the University Center was dedicated as William & Mary's central student activities building during a ceremony in which representatives from the construction and architecture firms as well as members of the W&M community participated. At its completion, the state-of-the-art building provided a much-needed additional dining hall with room for 350 students, two ballrooms, numerous multipurpose meeting rooms and a 450-seat auditorium.
Designed to complement rather than replace the existing Campus Center on Jamestown Road, the University Center soon became a central hub for student entertainment activities and visiting performers, speakers and artists. Early acts to grace the University Center's stages were comedian and actor Adam Sandler and a concert by De La Soul.
During the Commencement ceremony on May 11, 2008, William & Mary surprised one of its longest-serving and most devoted alumni by rechristening the University Center the Sadler Center in honor of W. Samuel Sadler. A fixture of the William & Mary community, Sam Sadler, class of 1964, M. Ed., 1971, retired in 2008 after 41 years of service to the university, including serving as dean of men 1970-1973, dean of students 1971-1992, and vice president for student affairs 1993-2008.
"I smile whenever I hear students talk about 'meeting at Sadler,'" said current Vice President for Student Affairs Ginger Ambler. "Having worked closely with Sam for almost two decades and knowing his deep personal and professional commitment to the students of W&M, I can't think of a better tribute than to have his name associated with the building where student life thrives on a daily basis."
In 2013, the Sadler Center entered its most recent incarnation with the completion of an $8 million renovation project focused on revamping its overburdened dining hall to keep up with the increasing student population. The 7,000-square-foot expansion added around 300 additional seats to the dining area and added new dining options for students, including a brick pizza oven and a Mongolian grill.
With these latest additions, the Sadler Center is expected to continue to be the university's central hub for well beyond another 20 years.