A match made at W&M: Gene and Karen Kennedy Schultz '75
When Karen Kennedy and Gene Schultz arrived at William & Mary fresh out of high school in 1971, little did they know they would find love — and lifelong connections — on day one of Freshman Orientation.
Now, after 35 years of marriage and two children who also graduated from William & Mary, what better place to celebrate their anniversary than on the campus where they met each other and half the friends who would become bridesmaids and groomsmen in their wedding party?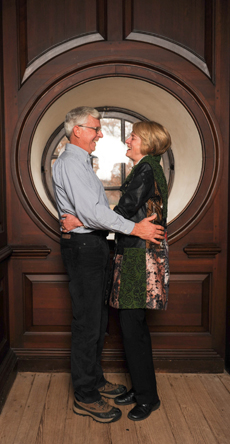 "This is the place where we met 42 years ago," said Gene, retired manager of the Virginia Employment Commission's Winchester office.
Was it love at first sight?
"Oh, no, absolutely not. We were good friends," said Karen, who is director of the Center for Public Service and Scholarship at Shenandoah University.
The Schultzes and about a dozen guests — including their children and members of the wedding party — gathered at the Plumeri House on campus for a 35th anniversary celebration in mid-December. The weekend festivities highlighted the lifelong love, friendships and connections that personify the William & Mary experience.
Gene was a cross-country  star from Winchester, Va., and Karen was a field hockey player from Washington. They first laid eyes on one another on the first day of Freshman Orientation. They started dating in their junior year.
They recalled the good times they shared with teammates, at her Gamma Phi Beta Sorority dances and at a campus pub, the Hoi Polloi, located behind the Campus Center. That was before Virginia raised its drinking age from 18 to 21.
The Sunken Garden was a special place for the couple, who graduated in 1975. They married in 1978.
Their daughter, Katie S. Plum '06, M.A.Ed. '12, filled in the story.
"My dad originally wanted a small, intimate wedding in the Wren Chapel. However, my mom convinced him otherwise. As she was an only child, my grandfather put an open invitation in the church bulletin! They hosted a 400-plus- person wedding at First Baptist Church in Washington, D.C., her home church. So many people came to help celebrate that they barely saw each other during the reception," Katie said.
"I'm glad, after 35 years, that they can have their intimate celebration in Williamsburg," she said.
Karen said the College had a major impact on shaping the personal and professional identities of the Schultz family. The long-lasting, special relationships forged while she and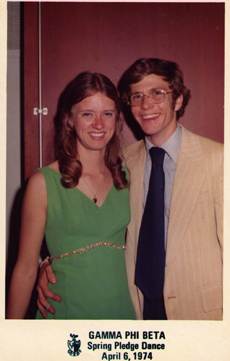 Gene were William & Mary students have been an added bonus. Four College friends were members of the wedding party. Returning to campus for the Schultzes' anniversary allowed the friends to experience "the majesty and beauty of campus together, and to celebrate long marriages of all of us," said Karen.
Wedding party alumni included Karen's maid of honor and sorority sister, Peggy Lawlor Hutchinson '75, and three of Gene's four groomsmen, Christophe Tulou '76, Ron Martin '75 and Steve Nobles '76. The three groomsmen also married William & Mary alumnae.
Recalling her wedding day, Karen joked that it was serendipitous that Gene and three of his four groomsmen were on the cross-country team because they had to quickly seat numerous guests.
The Schultzes passed on their love and respect for their alma mater to their daughter, Katie, and their son, Ben, who graduated from William & Mary in 2009 and works on Capitol Hill. Katie, whose degrees are in education, teaches at a Williamsburg elementary school.
"Because of William & Mary and lots of other wonderful, influential people, she just got her National Board Certification, which is huge," Karen said.
The College's rigorous academics and excellent faculty support attracted Karen as a young high school student, and now she and Gene eagerly give back in many ways.
"I mentor several William & Mary students. I have hired William & Mary students," Karen said. During the anniversary weekend, she had meetings with students about "career things they wanted to talk about," she said.
Supporting their alma mater is important, which is why the couple discouraged gift giving at the gathering.
"If people chose to make some sort of gift, we asked them to give to the College of William & Mary," Karen said.
She and Gene often return to campus for Homecoming. Their graduating class started an association called "Staying Connected" to keep alumni in touch with current students and assist with their needs.
"William & Mary has been such an important part of every member of my family," Ben said. "I am thrilled that it once again was a gathering point for such a great group of family and friends."