W&M Wind Ensemble gets Centaur Records recording deal
Music is in the air at William & Mary, and soon, it will be on a record label, as well.
Starting this past summer, the William & Mary Wind Ensemble, under the direction of Paul Bhasin, has been busy rehearsing and recording sessions for the release of a new album through Centaur Records.
Centaur Records, founded in 1976, is one of the oldest and largest independent classical labels in the United States, and has released albums by artists such as Mark Zuckerman, the New York Scandia Symphony, the New England Conservatory Wind Ensemble and Chicago a Capella.
The CD, which will feature all original works by William & Mary Professor Brian Hulse and performances by the Wind Ensemble and W&M faculty soloists,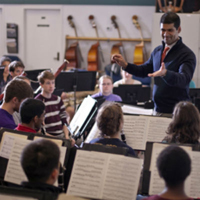 will be conducted by Bhasin and released early next year.
Hulse is very excited about the project and about its meaning for the future of music at W&M.
"We are charting relatively new territory here: a CD of new compositions put out by a professional label featuring performances that integrate both professional W&M faculty and students." he said. "For the students involved, it is a rare chance to participate artistically in a professional-level recording project, and it is an honor for me to have my music performed and recorded by such outstanding musicians."
 Hulse's piece, entitled Vista Stellata, is a musical description of Van Gogh's painting The Starry Night and features, in addition to the main ensemble, sections for solo trumpet, clarinet and cello. The principal parts will be performed by W&M professors, some of whom perform for both the Richmond Symphony and the Virginia Symphony Orchestra.
"This is the musical equivalent of research," said Bhasin. "The fact that our students have the opportunity to sit in with professional musicians, who do this for a living, do what they do and ask them questions about it, is just fantastic. It's basically the most intense lab experience possible."
Bhasin says plans don't stop at recording. He intends to take Vista Stellata and a few other pieces by Hulse on tour to China next year as a continuation of the Wind Ensemble's performance.
The precedence set by this recording contract, Bhasin hopes, will open doors previously thought unavailable to a liberal arts college.
"Usually, these recording contracts are awarded to schools of music or conservatories. William & Mary, on the other hand, attracts students who perform at a high level despite our not offering professional performance degrees. The fact that William & Mary was offered this contract says a lot about our music department and students."
Patti Carlson, a music professor and principal clarinetist of the Virginia Symphony Orchestra who will be playing principal clarinet on the album, agrees.
"I think that this future CD of Professor Hulse's music will represent the William & Mary department well," she said, "by showing both the strength of the composition faculty, and the excellent performance quality of the applied faculty and their students who participated in this recording under the direction of Professor Paul Bhasin."
For Bhasin, this deal is especially meaningful: Early in his career, he performed as a trumpet soloist on a Centaur Records release. Coming back to record again with the same label now as a conductor, he says, he can see how his career has evolved.
"It just goes to show," he added, "one performance can change everything. That's why we do this: to show people what's possible. That's the best part of celebrating music performance as academic scholarship."