W&M to host inaugural supplier diversity advocate institute
Marra Austin is known on the William & Mary campus as the person to see about purchasing and credit card questions. However, few know about another important aspect of her job: ensuring that the university supports small, women- and minority-owned (SWaM) businesses through its purchasing practices.
In July, Austin will help co-host the Virginia Association of State College and University Purchasing Professionals' (VASCUPP) first-ever Supplier Diversity Advocate Institute at William & Mary. The event, to be held July 25 at the Sadler Center, will bring together purchasing professionals and supplier diversity personnel from across the Commonwealth. Virginia Secretary of Administration Lisa Hicks-Thomas will serve as the keynote speaker.
"Supplier diversity events are traditionally geared towards networking between state agencies and the vendors," said Austin, associate director of procurement processes. "The institute is designed to bring supplier diversity professionals together to discuss each other's supplier diversity procurement initiatives and best practices."
The one-day event, which is being held in partnership with the Virginia Association of Governmental Procurement, will include sessions on the impact of diversity on America's workforce, maximizing eVA (the statewide electronic procurement system), the role of supplier diversity in economic development, corporate diversity strategies for public procurement, locality toolkits and certification for supplier diversity professionals. Representatives from corporations and general contractors are also expected to participate in a panel session about best practices.
The event's organizers hope to draw around 100 state agency and local government diversity and procurement professionals.
"Any procurement professional is encouraged to attend," Austin said. "We all need to remind ourselves that although our title may not specifically include supplier diversity, if your responsibilities include purchasing for your institutions, you are a part of supplier diversity."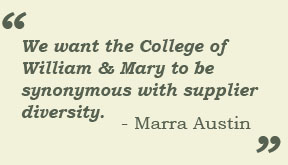 Supplier diversity is important to William & Mary's larger commitment to diversity, according to Chon Glover, assistant to the president for community initiatives and chief diversity officer.
"I am very excited about the opportunity for W&M to host the first Supplier Diversity Advocate Institute," she said. "As with all of our diversity initiatives, supplier diversity is integral to our goal of inclusive excellence. I look forward to working closely with Marra Austin to educate our campus community regarding the benefits of supporting small, women- and minority-owned businesses."
In 2006, then-Virginia Governor Tim Kaine signed an executive order calling for state agencies to make 40 percent of their purchases from SWaM-certified businesses.
As one of nine college and university members of VASCUPP, William & Mary seeks to use companies certified through the Virginia Department of Minority Business Enterprises.
In order to become SWaM-certified, a business must be owned by a woman or minority, or it must qualify as "small." Small businesses are defined as businesses that have fewer than 250 employees and have averaged a gross of $10 million or less over the past three years. They must also be at least 51-percent owned by a U.S. citizen or legal resident alien.
Austin has been seeking to advance the university's supplier diversity efforts by reaching out to local and on-campus vendors to let them know about the program and get them certified.
"There is no direct cost for SWaM certification which gives the vendor a smoother path to conduct business across the Commonwealth," she said.
Austin hopes that this conference helps her fellow supplier diversity professionals make connections and gain ideas so that they can continue to improve their efforts.
"Collaboration among supplier diversity professionals is key in reaching local and state SWaM participation guidelines.  The more we share our successful practices developing and working with SWaM vendors, the more business we will be able to keep within our local communities and the Commonwealth as a whole.  "
As far as the university's role in these efforts, Austin said, "We want the College of William & Mary to be synonymous with supplier diversity, and I believe this event will facilitate our effort to become a leader in supplier diversity."
For more information about the institute or to register, visit: http://www.vagp.org/events/sdai.html.