W&M student wins local film award
On any given day, if you visit Swem Library's Media Center, chances are you will see Patrick Jenkins '14. Whether he's working on his latest film project or chatting with his media center co-workers, he is always exploring new ideas and sharing his passion for film.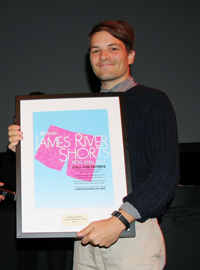 "Patrick exemplifies the type of student, who, because of a native curiosity and creativity, can really find a home in Swem's Media Center," said Troy Davis, director of Swem Media Services. "For him, and many others, it is another nurturing classroom that makes the W&M experience so special. In the short time he's been here, I've seen him grow in many ways – creatively, intellectually and with an increasing competency in visual communication. Needless to say I am very proud of him!"
And Jenkins has much to be proud of – he recently won top prizes at the James River Film Society's Short Film Competition for his nine-minute film, "Anna Walks In," a project he accomplished with support from Swem's Media Center.
"The neat thing is, if you have a video idea and you're brave enough, there are enough tools and support at the Media Center to translate that idea and not make it amateur. I'm biased, for sure, but it is the best thing about the library," Jenkins said.
"Anna Walks In" follows three young women who are sent to live with a benevolent stranger. They are permitted to freely explore his large house, with the exception of one room, which is forbidden. At first, the girls are content with their comfortable situation, but curiosity soon becomes the better of them. The short is highly atmospheric, shifting from idealized nostalgia to restlessness and finally regret. Jenkins describes the film as being "as much about mood and tone as it is narrative," and expects it to surprise those who watch.
The Shorts Competition is Jenkins' first film award. He wrote and directed the film as part of an independent study, working with producer Chad Kotz '13. To complete the short, they utilized equipment from the media center including lights, audio recorders and microphones, and received support from students, library staff and faculty members. W&M students Madeleine Murphy '16, Brittany Liu '16 and Eva Colberg '16 appear in the film.
"'Anna Walks In' is one of those projects that demonstrates W&M learning at its best...it is creative, collaborative and connected," said Ann Marie Stock, director of film and media studies. "I'm thrilled to have worked with Patrick and other members of the production crew.  And I'm grateful to have the Swem Media Center as a partner."
Jenkins and Kotz didn't initially consider entering the film into any festivals, until a friend encouraged them to submit it to the James River Film Society's competition. The film won first place, and Jenkins received the Kathryn Stephens Virginia Filmmaker Award.
"The award was a surprise because I thought we were just going to see our film played on a big screen – which was already great – but then they also selected it for first prize and that was even more great," said Jenkins. "It was a nice encouragement for my future projects and the folks at the James River Film Society are very kind and generous for recognizing us."
This is not the last of this successful partnership – Jenkins and Kotz plan to put the prize money from "Anna Walks In" towards their next project.