W&M remains a top producer of Peace Corps volunteers
The College of William & Mary remains one of the top producers of Peace Corps volunteers, according to a ranking released by the organization today.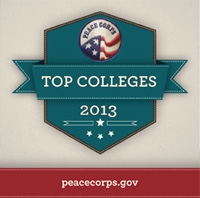 With 30 alumni currently serving in the Peace Corps, William & Mary is ranked ninth among the top 25 medium-sized universities on the list, tied with the College of Charleston. Since the Peace Corps' inception, 588 William & Mary alumni have served as volunteers with the organization. Today's ranking marks the 11th consecutive year that the university has been included in the Peace Corps' top 10 list of medium-sized schools.
"William & Mary provided me with a great opportunity to learn and practice leadership skills," said Allen Koji Ukai '10 in a Peace Corps press release. Ukai is working as a community business volunteer in El Salvador. "My majors in sociology and public policy also provided me with a great background to the various socioeconomic issues I see on an everyday basis."
The annual ranking produced by the Peace Corps categorizes schools according to the size of their student bodies. The medium-sized school category includes schools with 5,000 to 15,000 undergraduates. With an undergraduate population of approximately 6,100, William & Mary makes an impressive showing on the list alongside schools with much larger populations. Last year, the university ranked eighth on the list of medium schools with 37 volunteers.
With 73 current volunteers, Western Washington University tops the medium-sized schools list, followed by American University (55), George Washington University (53), Cornell (40) and the University of Vermont (37). Among large universities with more than 15,000 undergraduates, the University of Washington and University of Florida tied for the top spot with 107 volunteers each, and Gonzaga University's 24 volunteers put them at number one among small schools, which have fewer than 5,000 undergraduates.
More than 8,000 Peace Corps volunteers are currently working in 76 countries around the world.
"Every year, graduates of colleges and universities across the United States are making a difference in communities overseas through Peace Corps service," said Peace Corps Acting Director Carrie Hessler-Radelet in the press release. "As a result of the top-notch education they receive, these graduates are well prepared for the challenge of international service. They become leaders in their host communities and carry the spirit of service and leadership back with them when they return home."
A Peace Corps information session will be held at William & Mary on Feb. 15 from 4 to 5 p.m. in Room 1027 of the Mason School of Business. For more information, contact Alyson McReynolds at amcreynolds@peacecorps.gov.