W&M prepares to honor King with words of inspiration, acts of service
The William & Mary community is preparing to honor the legacy of Martin Luther King, Jr. nearly 50 years after the celebrated civil rights leader told the nation, "I have a dream."
The Center for Student Diversity will host its annual King commemoration event with keynote speaker Julianne Malveaux on Jan. 17, and the Office of Community Engagement has organized more than 100 students to participate in service and social-justice work in King's name on Jan. 21.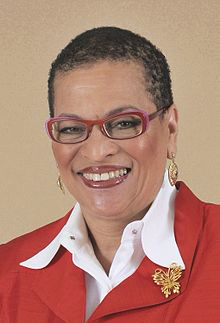 Free and open to the public, the commemoration event will take place at 7 p.m. in the Sadler Center's Commonwealth Auditorium.
Malveaux is an economist and author who recently served as the 15th president of Bennett College for women. Her work has appeared in numerous newspapers and magazines, and she has appeared as a commentator on multiple radio and TV networks including CNN, PBS, NBC, Fox News and BET.
Malveaux is also the founder of the multimedia firm Last Word Productions and has spoken at hundreds of colleges and universities. She has also been highly involved in civil rights and policy organizations, including the Economic Policy Institute and the Liberian Education Trust.
"I am very excited about having Dr. Julianne Malveaux as this year's keynote speaker for our annual King commemoration," said Vernon Hurte, director of the Center for Student Diversity. "She is a noted scholar and commentator of great depth and insight who I believe will challenge us to take a clear and honest look at where we are as a nation and as the world, as we mark, this year, 50 years since Dr. King's famous 'I Have a Dream' speech."
Students who are participating in the Office of Community Engagement's day of service to honor King will work with multiple organizations in Petersburg and Williamsburg. The annual effort, which, in the past, was focused only on Petersburg, will include both cities for the first time this year thanks in part to a grant from the Corporation for National and Community Service.
The students will watch a film about King on Sunday night to learn more about the man whom they will be honoring. On Monday, when the nation observes Martin Luther King, Jr. Day, the students will engage in service projects across the two cities.
Approximately 30 students will go to Petersburg, where they will take part in a community rally and help in a soup kitchen.
In Williamsburg, students groups will work with a number of local non-profit organizations, including the Red Cross, Habitat ReStore, Heritage Humane Society and Housing Partnerships.
Because Monday is also Inauguration Day, the Office of Community Engagement has invited the members of the Williamsburg City Council to participate in the service projects.