W&M Arts & Entertainment Council announces second annual festival
Actress Glenn Close '72 to headline event
The William & Mary Arts & Entertainment Alumni Council will hold its second annual Arts & Entertainment Festival at the College Sept. 26-29.
The theme of this year's conference is "The Business of Show: The Arts & Entertainment in Dollars and Cents." Speakers will include industry experts from the motion picture, television, theater, advertising and news industries, who will discuss how the fine and performing arts and other entertainment content is financed, monetized and marketed.
Headlining the Arts & Entertainment Festival is award-winning actress and co-founder of Bring Change 2 Mind Glenn Close '74, D.A. '98. Close graduated from William & Mary with a double major in theater and anthropology. She is a six-time Oscar nominee, three-time Emmy Award winner, three-time Tony Award winner and Golden Globe winner. She most recently won Emmy and Golden Globe awards for her lead role in the television series "Damages." She has starred in movies such as "Fatal Attraction," "Dangerous Liaisons" and "The Natural."
Close's session will feature a Q&A and discussion about her career and roles in film and theater.
"As part of the Arts & Entertainment Festival, [Close] will share the lessons she's learned as an actor, director, producer and creator with those who started right where she did," said Jimmy Finn '00, a television executive and member of the A&E Council's Board of Directors. "At a time when the fast-path to celebrity often trumps the 'pay-your-dues' model, Glenn Close's career is a model for students and alumni alike. I can't think of a better example of a career worth emulating."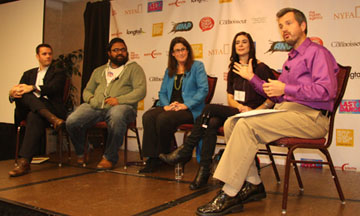 Other panels to be offered at the Festival include "Funding Films in the Future," "The Digital Divide: Monetizing Content on the Web" and "Broken Records: New Ways to Finance and Sell Music."
In addition to the A&E Council, the event is co-hosted by the Cohen Career Center, the Office of Student Affairs, and the Muscarelle Museum of Art.
Registration is now open. Admission for students is $26. Admission for Young Guarde (classes of 2009-2013) and faculty is $99 and for all other alumni and guests the cost is $162.
For more information visit the Festival's website.