William & Mary admits bright, diverse Class of 2017
The evening of March 26 saw a flurry of activity on social media sites as thousands of prospective William & Mary students received a simple email, saying that good news was on the way. The Class of 2017 had been selected, and they were invited to be part of it.
"Accepted to my dream school, the College of William and Mary! So incredibly blessed, now where's that lottery ticket…," tweeted one student.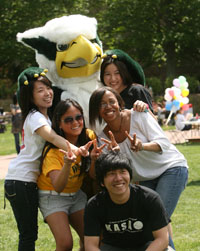 William & Mary once again saw a record number of applications this year, and the Class of 2017 promises to be yet another bright and diverse addition to the campus community.
The Office of Undergraduate Admission received 14,035 applications for the Class of 2017, setting a nine-year streak for record applications. From that record-setting pool, 4,565 students were admitted, many of whom will soon be on campus as part of the annual Day for Admitted Students.
 "The strength of this pool was outstanding, and that bodes well for what the members of this class will accomplish during their time together as students," said Henry Broaddus, associate provost for enrollment and dean of admission. "They will challenge one another and learn from one another, and their relationship to William & Mary will last a lifetime."
 Some of the highlights of this year's admitted class include:
Students of color make up 33 percent of this year's admitted students, and international students comprise an additional 8 percent.
The median SAT score of the admitted students is 1410.
Among students with a high-school rank, 89 percent will graduate in the top 10 percent of their class.
 The selection of the Class of 2017 was a long and painstaking process for admission staff members, but one well-worth undertaking, they said.
 "What makes it worth it is recognizing that these are not just application files or names on pieces of paper, but these are real, interesting, talented students," said Tim Wolfe, senior associate dean of admission. "Knowing that these are the students who are going to make up the next great class at William & Mary absolutely makes a difference."
 Wolfe said that the new class is not just impressive academically.
 "Yes, the raw academic information there looks great, but when you dig below that and really see the substance that these students possess both in and out of the classroom, you can't help but be proud of this group of students."
 Many of the admitted students and their families are expected to be on campus on April 13 for the Day for Admitted Students. The annual event offers a number of programs and activities for students to meet with members of the campus community and experience some of what William & Mary has to offer.